Holocaust Memorial Lecture: German Business Cooperation With The Nazis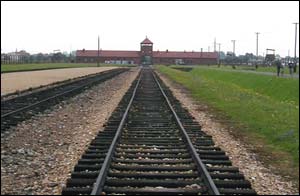 KEENE, N.H. 9/8/05 - To what extent did German corporate leaders adjust their principles to accommodate the Third Reich? Peter Hayes, a Northwestern University professor who studies the relationship between German big business and the Nazi state, will present lectures on the subject Sunday and Monday, Sept. 25-26, in Manchester and Keene. His presentation, "German Corporate Complicity in the Holocaust" is this year's Holocaust Memorial Lecture, sponsored by the Cohen Center for Holocaust Studies at Keene State College.
His Sunday lecture takes place at 2 p.m. in the Derryfield School Auditorium, 2108 River Road, in Manchester. His Monday presentation is at 7:30 p.m. in the Mabel Brown Room of the Lloyd P. Young Student Center at Keene State College. Both events are free and open to the public.
"Dr. Hayes is not just a groundbreaking scholar," says Dr. C. Paul Vincent, director of the Cohen Center for Holocaust Studies, "but also a spellbinding speaker. His focus on corporate ethics is not only of historical interest but carries tremendous weight in today's society."
The Theodore Z. Weiss Professor of Holocaust Studies at Northwestern University, Hayes is the author of Industry and Ideology: IG Farben in the Nazi Era (2001), a study that was awarded the 1988 Biennial Book Prize of the Conference Group for Central European History, a section of the American Historical Association. His most recent book, From Cooperation to Complicity: Degussa in the Third Reich (2004), details the incremental moral corruption of otherwise honorable executives who expropriate Jewish property, employ forced and slave labor, refine stolen gold and silver, and supply, through a subsidiary firm, the gas used to murder hundreds of thousands of innocent people in Nazi death camps.
"Anyone interested in ethics - not merely 'business ethics' - should read this book," says Cohen Center Director Vincent. "It expertly scrutinizes the frailty of 'ordinary men' - in this case, ordinary businessmen - when encountering intimidation, perceived opportunity, patriotic pressure, and even selfless professional concern. Prof. Hayes believes that it is far too easy to identify the Nazi villains and thereby focus the blame for the Third Reich's unmatched atrocities on the likes of Himmler, Heydrich, Göring, Goebbels, and, of course, Hitler. What of the thousands who adjusted their principles for these men?"
Hayes is currently working on two other books, Profits and Persecution: German Big Business and the Holocaust and The Failure of a Generation: German Elites and National Socialism.
Teaching at Northwestern University since 1980, Hayes has received both Northwestern's Distinguished Teaching Award and the Alumni Association's Excellence in Teaching Award. He also directs the Summer Institute on the Holocaust and Jewish Civilization at Northwestern, serves on the Academic Committee of the U.S. Holocaust Memorial Council, and is a member of the Academic Advisory Board of the German Society for Business History.
For more information, contact the Cohen Center for Holocaust Studies, at 603-358-2490.
Related Stories