Keene State Names 2005 Distinguished Teacher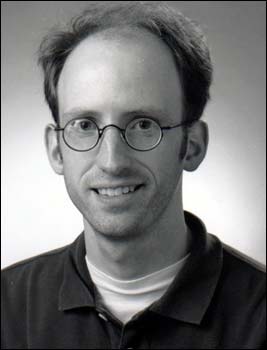 KEENE, N.H. 8/31/05 - Dr. Gregory Knouff, associate professor of history and chair of the history department, will receive the 2005 Distinguished Teacher Award from the Keene State College Alumni Association. Colleagues and students who nominated him describe his energy, respect, expertise, and inspiration and spoke of the "camaraderie he encourages among class members." He will receive his award at Fall Honors Convocation in October.
Dr. Knouff joined KSC in 1998 after serving as adjunct assistant professor of history at Rider University and lecturer of history at Princeton University. He earned a bachelor's degree in history at Temple University and a Ph.D. in early American history from Rutgers University. Among the courses he teaches are the American Revolution, Colonial North America, Gender in Early North America, Reading and Writing in History, Native American History, Early Modern Atlantic World, the Military in U.S. Society, and U.S. Social History.
Dr. Knouff's teaching centers on facilitating his students' development of critical thinking skills and an understanding of the major issues of early North American history. He emphasizes to students that studying history "is an act of interpretation based on complex and problematic sources, rather than a simplistic revelation of supposed 'truth' about the past."
"Academia is characterized by assessing the quality of ideas and making cogent arguments," he says. "I try to teach students to think, read, and write critically in order to be able to evaluate ideas and make arguments based on plausible evidence."
Dr. Knouff is drawn to the study of early modern North American history, he says, because of the rich cultural history of that period. He frames his scholarship in terms of the "collision of Native American, European American, and West African cultures," and is especially interested in issues of gender, class, and race and how they contributed to the formation of national identities.
Dr. Knouff is the author of the book, The Soldiers' Revolution: Pennsylvanians in Arms and the Forging of Early American Identity and four essays that focus on violence and the development of the racial ideologies in the American Revolution. He is presently commencing work on a history of images of Tories and "social outcasts" in late colonial New Hampshire.
He has served on many committees at KSC, including chair of the Four-Credit Task Force, College senator and faculty representative, and as a member of the Writing Task Force, the chair of the Academic Overview Committee, the 2001 World War II Symposium planning committee, and the Arts and Humanities Divisional Curriculum Committee. In addition to serving as chair of the history department, he also advises the History Club and serves on the Academic Integrity Committee.
Colleagues and students hold in high regard Dr. Knouff's teaching and expectations. "(He) treats his students as historians and they strive to achieve his high standards," wrote a colleague. A student wrote of Dr. Knouff, "Only an exceptional teacher can inspire so many minds, bringing together wisdom and passion to create a classroom experience that is challenging, scholarly, and energizing."
The Distinguished Teacher Award is based on four criteria - excellence in the classroom, encouragement of independent thinking, rapport with students both in and out of the classroom, and effective student advising.
For more information, contact Greg Knouff at 603-358-2961.
Related Stories