Dr. Neil Sullivan, Civil Rights Pioneer, Dies at 90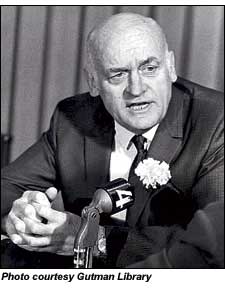 KEENE, N.H. 8/12/05 - Neil Sullivan, a 1936 graduate of Keene Normal School and one of the College's most distinguished alumni, died on Saturday, Aug. 6. An obituary for Dr. Sullivan appears in the Aug. 12 New York Times; last year Keene State Today magazine printed a reminiscence by the legendary educator.
Dr. Sullivan came to national attention in 1963, when Attorney General Robert F. Kennedy, acting at the behest of President Kennedy, asked him to go to Prince Edward County, Va., to reopen the public schools, which the county had closed in 1959 rather than integrate. (White students attended tax-subsidized private schools.) On two weeks' notice, he opened the Free School Association, offering formal education to black students for the first time in four years.
Building on the success of his efforts in Virginia, Dr. Sullivan was hired in 1964 by the city of Berkeley, Calif., to desegregate its elementary schools. Under his leadership as superintendent of schools, by September of 1968 Berkeley became the first large city in the country to achieve complete school integration.
Dr. Sullivan's next job was perhaps his most contentious: commissioner of education for the state of Massachusetts. In that capacity he spent three years confronting Louise Day Hicks and the rest of the all-white Boston School Committee in a fight to integrate Boston's notoriously divided schools.
Dr. Sullivan later returned to California to chair the department of educational administration at the University of California, Long Beach. He and his wife, Martha, retired to New Hampshire; she passed away in 1997.
Related Stories