Governor Lynch Visits Keene State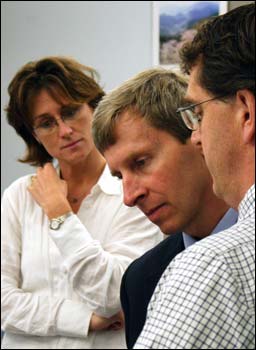 Tim Allen (right), professor of geology, and Melinda Treadwell (left), assistant professor of technology, design and safety, explain the workings of an isotope mass spectrometer to Governor John Lynch. The machine, located in the Center for Environmental Biogeochemistry in Keene State's Science Center, traces the presence of isotopes (variations of the same element) in a given substance.
Governor Lynch toured the campus on July 28, accompanied by President Helen Giles-Gee and Jay Kahn, vice president for finance and planning. The Governor also visited the Cohen Center for Holocaust Studies, located in the Mason Library, where he met with Tom White, educational program coordinator for the center.
Related Stories