Irish and Jordan Scholars Selected to Play for Peace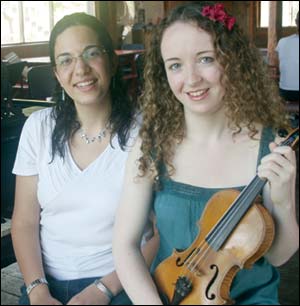 Earlier this month the latest two recipients of the Playing for Peace Scholarship arrived at Keene State.
Reem Abu Rahmeh, from Jordan, and Ealain McMullin, from Ireland, will spend a year studying and performing at Keene State and in the local community.
Now in its third year, the Playing for Peace Scholarship is an initiative of the Department of Music at Keene State and the Playing for Peace project of the Apple Hill Center for Chamber Music. The Apple Hill project brings musicians from cultures in conflict around the world to Apple Hill's base in Nelson.
Ealain, 21, from Donegal in the northwest of Ireland, has been playing the violin for 12 years. She first became involved in projects with musicians from Northern Ireland through her teacher. She has participated in chamber music workshops in Derry for a number of years with groups such as the Medici String Quartet, the Emperor String Quartet, and the Apple Hill Chamber Players. For two years, Ealain has been a member of the National Youth Orchestra of Ireland, which includes musicians from both sides of the border. In summer 2002, she travelled with the orchestra to Birmingham in England, where they performed the complete Wagner Ring Cycle. She is studying English and psychology at Trinity College in Dublin.
Reem, 25, from Amman, began playing piano at the age of ten. In 1994 she enrolled in the National Music Conservatory (NMC) to continue her studies. In 2002, she earned her Diplome Superieur from the Conservatoire National de Boulogne-Billancourt in Paris. She has participated in international events, such as the 13th International Piano Competition in Rome, where she played a piano duet, and the Apple Hill Summer Festival. She also plays the violin in the orchestra of the National Music Conservatory and has participated in its performances in Jordan and Germany. She holds a degree in mechanical engineering and a degree in music from the University of Jordan, and is currently a faculty and staff member at the NMC in Amman. She also teaches piano, music theory and music history at the Conservatory in Amman.
Related Stories