Chautauqua Returns to Keene State July 21-23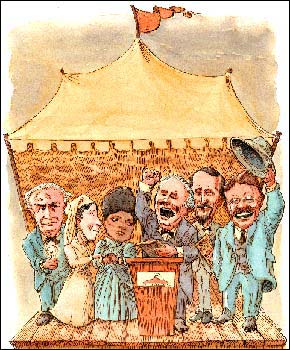 In 1905, America wrestled with enormous internal challenges, such as racism, women's suffrage, workers' rights, immigration, technological innovations, and religious liberty. You'll get your chance to meet some of the architects of America's New Beginning on Thursday - Saturday, July 21-23, when KSC hosts Chautauqua, an event where performer/scholars bring figures from history to life. A free event, Chautauqua is organized by the N.H. Humanities Council.
The theme of this year's Chautauqua is "1905: America Reinvents Itself." The figures from history being represented include inventor Thomas Edison, peace advocate Sarah Farmer, president Theodore Roosevelt, women's and civil rights activist Ida Wells-Barnett, secretary of state William Jennings Bryan, and entrepreneur Fred Harvey. The performers will present the life story of each figure and then answer questions from the audience in character and as scholars.
A number of other activities, including Young Chautauqua performances by children, will also be staged during the event.
The "Young Chautauqua" performances will begin at noon on KSC's Fiske Quad with evening performances beginning at 7 p.m. Pre-show music will be performed each evening at 6 p.m. Last year's Chautauqua was popular with families, and attendees are encouraged to come early, bring a picnic dinner, and enjoy pre-show music.
Visit www.nhhc.org for more information and a detailed schedule.
Related Stories