Familiar Faces about to Leave Keene State, and the U.S.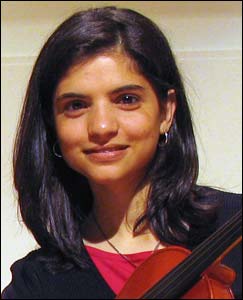 KEENE, N.H. 5/6/05 - Keene is a long way from home for Nouran Meho and Francisco Vasconcelos. The students, who hail from Amman, Jordan, and Lisbon, Portugal, respectively, will graduate from Keene State College this Sunday.
"My two years here at Keene State have been amazing," says Nouran, who will graduate with a Bachelor of Music degree, majoring in music performance. "Looking back, I am surprised how fast it went!"
Nouran, a violist, came to Keene State two years ago as a recipient of the Playing for Peace scholarship, a collaboration between the KSC music department and the Apple Hill Center for Chamber Music. Studying and performing at Keene State, she says, has been memorable. "The classes, the helpful teachers, my new friends - I will never forget."
The transition from the National Music Conservatory in Jordan was not always easy for Nouran. "The classes at Keene State are more music focused, and the general classes relate to music too," she explains. Nouran also found herself studying, writing, and taking more tests then she was used to. "It took time to get to know the system of the college and what professors expected of me."
Recently Nouran performed her senior music recital, the focus of her attention during the spring semester. "It was what I was really doing here for the past two years," she says.
This summer, she plans to take a few more general education courses at Keene State, before performing for her third year at Apple Hill. She jokes that she needs the extra practice after taking science courses.
Then, she returns home to Jordan.
"I will miss it here," she says. "Keene State is a great place to focus on life and music." Nouran plans to take a break from studying when returning home, but feels her degree from Keene State will help with her music career. "A degree from the States is very valuable. It will help a lot because I plan to teach one day."
She recommends studying abroad to anyone interested. "The experience has been wonderful…it's hard to describe how much I learned. I hope the scholarship continues to benefit other students."
Before coming to Keene State, Francisco, who graduates with a Bachelor of Science degree with majors in management and computer science, attended Universidade Nova De Lisboa Faculdade De Econia in Portugal. The two institutions could not be more different, he says. There was no campus at my university in Lisbon. "All of your time was focused on academics. It was very demanding."
He also missed playing soccer while at the Lisbon university. "Soccer was my main reason for coming to Keene," Francisco, a four-year forward on the KSC men's soccer team, explains. "I love the competition." He added that the close proximity of the College to the mountains was another draw, because he loves skiing.
Francisco found out about Keene State after talking with former KSC student Michael Montro, whose parents are also from Portugal. The first person he spoke with at Keene State was soccer coach Ron Butcher.
Although he had been speaking English for 13 years, Francisco found that there were differences in the local dialect, which, he says, made adjusting to living here a little difficult.
There were other difficulties. "Living here, I found myself having two identities," he explains. "It gets difficult to explain your beliefs to others."
Francisco says his soccer experience and degree from Keene State are very valuable to him. "The soccer competition is intense here," he says. "I did not start in every game; it only made me work harder." He adds that he will miss the bond the team had when working together." He believes his degree will give him an edge after college. "Computer science and business management degrees from the U.S. hold more prestige than from universities in Europe," he says.
His parents will attend the graduation ceremony. During his four years at Keene State, he spoke with them every week and traveled home during his breaks from school. Sports are also a huge part of his family - his two brothers are professional rugby players.
After graduation, Francisco plans to travel around Europe before returning to Portugal.
The graduation ceremony at Keene State begins at 1 p.m. on Sunday, May 8, on Fiske Quad.
Related Stories