Cooking Up a Community Storm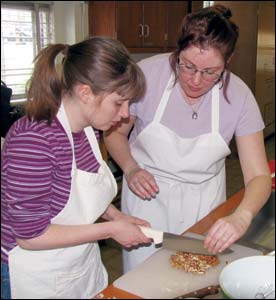 KEENE, N.H. 5/4/05 - Students in Instructor Karrie Kalich's Health Science 217
Applied Nutrition Science Lab - know not only how to read the nutrition label on a jar of pinto beans or a box of brown rice. They know how to plan healthy meals, shop for the ingredients, make a wide variety of foods from scratch, and pass their knowledge along to others.
As part of the service-learning component of the class this semester, the students partnered with clients with disabilities from Monadnock Developmental Services. First, the KSC students talked with the MDS clients to find out about food likes and dislikes. Together, each team planned a simple meal to prepare together, working within a modest budget of $7 to $10 per meal. They shopped for the ingredients and started to cook.
The KSC students had worked hard to devise appropriate ways of teaching their partners how to cook, coming up with large-type recipes for the vision- impaired, instructions illustrated with cartoons and photographs, and other creative approaches.
In the lab kitchen in Joslin Hall on an April afternoon, onions sizzled in frying pans and blenders whirled as the students and their new friends cooked together. One blind woman learned to chop walnuts with the guiding hand of a student over hers to get the feel for the way the chef's knife rocked on the board. Before long, plates of food were on the table and the whole group sat down for a meal together, passing the Lean, Mean, & Steamin' Burritos, Three- Apple Chicken-Walnut Salad, Banana-Orange Smoothies, and other healthy, homemade foods.
"By teaching others how to cook, the people who take this class transform from being students into professionals," said Karrie, justly proud of her class.
The recipes developed by HLSC 217 students will soon be available on the web. In the meantime, contact Susan Peery at speery@keene.edu for recipes.
Related Stories