Synergy the Key in Food Science Competition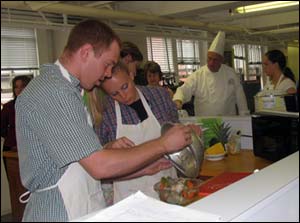 KEENE, N.H. 5/4/05 - Last Wednesday, Instructor Becky Dunn's Food Science class collaborated with area Sodexho chefs in the third annual Nutrition Synergy Competition. The class of eleven students divided into five groups, each with a kitchen to work in and a chef to help make the dinner.
"The competition gets better every year," said Becky. "The collaborative effort with Sodexho Dining Services is a tremendous asset to the learning process - for both students and chefs. The event is an amazing process to watch from both a nutritional and culinary standpoint."
Each group was given a mystery basket full of ingredients for preparing their meal. Before beginning, they had to have their recipe approved by nutrition judges according to dietary requirements and ethnic or age groups they were to consider - whether dishes were gluten free, for example, low calorie, or high fiber.
Participant Lindsay Smith said that having only an hour to prepare the dish made the event stressful and challenging, yet she and her Heart Healthy Moroccan group managed to create a puff pastry with beef and lamb, accompanied by honey brown rice with leeks and a cucumber-and-tomato salad with cinnamon.
After seven judges evaluated the dinners, groups received awards in categories from most creative to ethnic/age compatibility.
Luca Paris, owner and chef at Luca's in Keene and a judge for the event, commented that several of the recipes were so delicious that he may add them to his own menu. "There is always something to learn," he said. "Having a dietician in the kitchen with the chef is a great way for both to learn from each other."
Related Stories