A Playing For Peace Scholar Performs Free Recital on Sunday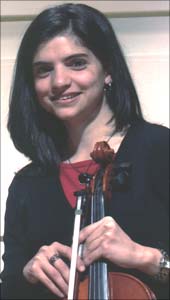 KEENE, N.H. 4/19/04 - Nouran Meho, a Keene State College music major from Amman, Jordan, who is a Playing for Peace scholarship student, will perform her senior music recital on Sunday, April 24, at 3 p.m. in the Alumni Recital Hall of the Redfern Arts Center on Brickyard Pond. The KSC Department of Music will present the recital free of charge. For further information about the recital, call 603-358-2177.
Meho, a violist, will be accompanied by pianist Maura Glennon, an associate professor of music at Keene State, during Rachmaninoff's Vocalise Op. 34 No. 14 and Schubert's Sonata Arpeggione for viola and piano. Meho also will perform Cello Suite No. 3 in C Major by J.S. Bach.
Meho is a Playing for Peace scholarship student for the second year through a collaboration between Keene State's Department of Music and the Apple Hill Center for Chamber Music in Nelson, N.H., which organizes the Playing for Peace program. Playing for Peace brings musicians together from war-torn countries to perform together in concerts around the world. Two Israeli music students have received Playing for Peace scholarships and have shared campus housing as well as concert stages with Meho.
While at Keene State, Meho has performed several concerts with the KSC Chamber Orchestra and played in a Nov. 7 concert at Keene State to benefit the Apple Hill scholarship fund. She was selected for "Who's Who Among Students in American Universities sand Colleges" for 2005. She also participated in the Apple Hill Center for Chamber Music summer camp in 2000, 2003, and 2004.
She has studied at Yarmok University and the National Music Conservatory of Jordan, where she has been a member of the conservatory's Orchestra and Youth Orchestra since 1999. She performed in the Fifth Child Song Festival in Amman under the patronage of Her Royal Highness Princess Alia Al-Faisal, the Jarash Festival for Culture and Arts, the Arab Song Festival in Cairo, Egypt, and the Arab Music Conference in Petra. She has played with the German Youth Symphony Orchestra at the Dead Sea Movenpick Resort and was a member of the Mass Orchestra, which performed in Amman in 2000 for the late Pope John Paul II's visit to Jordan.
Related Stories