Owls Clinch Cup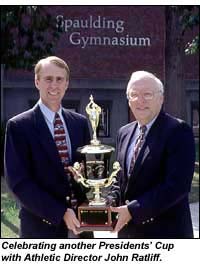 KEENE, N.H. 4/20/05 - With its 2-0 softball win over rival Plymouth State University on April 19, Keene State College clinched the Presidents' trophy for the 2004-05 season. The win gave the Owls an insurmountable 8-6 lead over the PSU Panthers with just one baseball game remaining. The Trophy, which was initiated in 1997-98 when KSC moved to Division III, is awarded to the school, either KSC or PSU, that accumulates the most head-to-head regular-season victories each year.
After Keene State captured the initial trophy, both schools have claimed the trophy in alternating years. The 2004-05 season marks the first time a school has won the trophy in consecutive seasons.
Freshman pitcher Ashlee Nicholson pitched a complete-game five-hitter to lead the Owls to the second-game victory. In the opener, Rose Eaton tossed a one- hitter in PSU's 1-0 win over KSC.
Related Stories