John Couture Appointed Dean of Professional and Graduate Studies at KSC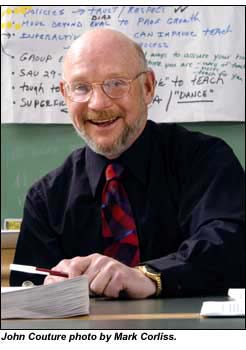 KEENE, N.H. 4/4/05 - Dr. John Couture, who has served as interim dean of the School of Graduate and Professional Studies since July, 2004, has been appointed Dean of the School. His appointment begins April 11.
"Dr. Couture has demonstrated significant administrative skill over the past year as Interim Dean," said KSC President Dr. Stanley J. Yarosewick. "I am confident that he will provide exceptional leadership for the School."
"I am thrilled to be the dean of Professional and Graduate Studies," said Couture. "I am also humbled by the faith and trust which the campus community has placed in me. I am so fortunate to be surrounded by expert and caring professionals who make Keene State College proud everyday.
"I am looking forward to more extensive campus collaboration as we move forward with the General Education process, the four-credit issue, and defining ourselves as a Public Liberal Arts College," he added. "Our professional and graduate programs are integral to liberal learning and the liberal arts."
After teaching middle and high school French for seven years in Newport, New Hampshire, John came to Keene State in 1978 to serve as intramural director and start his master's degree in education. After completing the degree and serving a year as supervisor of student teachers, he joined Fall Mountain Regional High School as vice principal. Three years later, he became the school's principal, a position he held for the next seven years. He then served as principal at Wheelock School in Keene for five years, before joining the department of education at KSC.
Couture instructs introduction to teaching (ESEC 100) and master's-level courses in organizational leadership, school reform, staff selection, supervision and professional development, and curriculum development. He organized the principal internship for master's students and was co-director of the one-year intensive Principals Residency Network.
For more information, contact John Couture at 603-358-2220.
Related Stories