KSC Chamber Singers and Concert Choir Sing American and British Music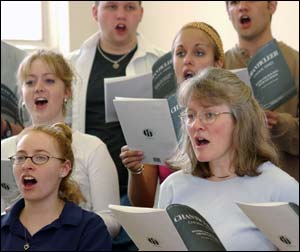 KEENE, N.H. 4/1/05 - The Keene State College Chamber Singers and Concert Choir will perform British and American music, including a new work composed for the 2005 choir, on Friday, April 15, at 7:30 p.m. in the Alumni Recital Hall of the Redfern Arts Center on Brickyard Pond. Tickets are $7 for the general public and $5 for KSC students, senior citizens, and youth age 17 or younger. Call the box office at 603-358-2168.
Music faculty member Diane Cushing will conduct the KSC Concert Choir, a group of 48 male and female singers. The Concert Choir will première "The Talents We Possess" composed for the choir by Ruth Elaine Schram, an Alabama resident, who wrote the music based on well known quotes selected by KSC students. The choir also will sing "Zion's Walls" by Aaron Copland and works by Ralph Vaughn Williams, John Rutter, Andre Thomas, and Moses Hogan. Student soloists will be Ben Jamieson, Corbett O'Connell, Joshua Midgett, Hannah Eaves, Anne McCarthy, and Amanda Kosloski. Music student Elizabeth Kuhn will conduct one piece.
Professor Carroll Lehman will conduct the KSC Chamber Singers, a select group of 22 singers, in performing five English Madrigals including two renditions of "My Bonnie Lass" by Thomas Morley and P.D.Q. Bach. The Chamber Singers also will perform the spirituals "I've Been R'buked" and "Let Me Fly" along with the early American song "Let the Shrill Trumpets Warlike Voice." Two jazz numbers "When the Saints Go Marching In" by Larry Farrow and "Blackbird" by John Lennon and Paul McCartney will be on the program along with Samuel Barber's song "The Coolin'."
Lehman, a member of the Keene State faculty since 1978, also is the conductor and music director of the Monadnock Chorus in Peterborough. Under his direction, the chorus has toured Italy, Austria, Germany, Spain, Portugal, Greece, and Scandinavia. He has conducted the New Hampshire Friendship Chorus and Orchestra on tours of Russia, Latvia, Estonia, and South Africa. Lehman also formed the KSC Oratorio Society, which has performed many major choral masterworks with orchestra.
Cushing, who teaches voice at Keene State, is the founder and director of the Greater Gardner Youth Choir and the Mount Wachusett Community Choir, which toured Italy in the spring. Cushing, a soprano, also has been a featured soloist with the Monadnock Chorus, the Master Works Chorale of Boston, Boston Baroque, and many other groups.
Related Stories