A Celebration of Science at Keene State on April 8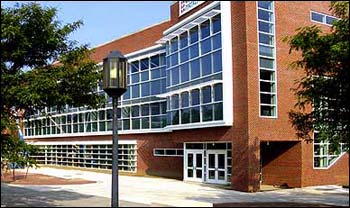 KEENE, N.H. 3/15/05 - Regional science projects, from work completed by pre- schoolers to research undertaken by undergraduates and science faculty, will be celebrated at an event at Keene State College's Science Center on Friday, April 8.
Projects created by students from Keene High School, Keene Middle School, KSC Child Development Center, Monadnock Regional High School, St. Joseph Regional School, and Symonds Elementary, and KSC Academic Excellence Conference student presenters, will be displayed in the Science Center from 2-5 p.m., following a ribbon cutting ceremony at 2 p.m. There will also be tours of the building and of the facilities used by the departments of biology, chemistry, computer science, environmental science, geography, geology, physics, and science education. The exhibition and tours are free and open to the public.
The event celebrates the completion of the Science Center, which opened last fall.
The $23-million facility is the most ambitious capital project in the College's history.
$19-million was contributed by the State Legislature as part of KEEP-NH; the remaining $4-million was raised by the College.
The 93,000-square-foot project includes a 55,000-square-foot renovation and a 38,000-square-foot addition.
The building contains 32 new labs, a new research center, spacious classrooms, customized areas for group work and discussions, and a new lecture hall. The lecture hall will be fitted with distance-learning technology, enabling people in locations outside the building to attend classes.
The Science Center houses over $1-million worth of state-of-the-art instruments, including the isotope ratio mass spectrometer and the X-ray fluorescence spectrometer, an outdoor courtyard that doubles as a "living" classroom, a greenhouse full of tropical plants, an herbarium, a map room, and a geology collection.
$500,000 of the $1.4 million appropriation the College recently received from the U.S. Department of Justice - to help establish a public safety management system for emergency personnel in N.H. - will be used to outfit six technology laboratories and five classrooms with distance-learning capabilities and to purchase a gas chromatograph-mass spectrometer and an atomic absorption spectrophotometer, which will enable students to identify and analyze substances present in chemical and biological hazards.
For more information about the celebration, contact Amy Proctor in the KSC Advancement Office at 603-358-2372.
Related Stories