Classical Guitar Music Highlights KSC Guitar Concert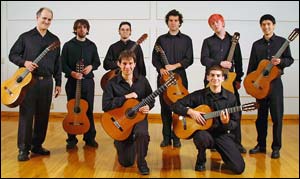 KEENE, N.H. 3/31/05 - Classical guitar music by four guitar virtuosos - Agustin Barrios, Leo Brouwer, Fernando Sor, and Andrew York - will highlight the Keene State College Guitar Orchestra concert on Wednesday, April 20, at 7:30 p.m. in the Alumni Recital Hall of the Redfern Arts Center on Brickyard Pond. Tickets are $7 for the general public and $5 for KSC students, senior citizens, and youth age 17 and under. Call the box office at 603-358-2168.
KSC Professor of Music José Lezcano will direct the Guitar Orchestra through a "Guitar Heroes Plus" program that includes Cuban composer Leo Brouwer's atmospheric and minimalist Cuban Landscape with Rain, Agustin Barrios's Paraguayan Dance, Fernando Sor's Rondo in C arranged for guitar orchestra, and California composer Andrew York's Pacific Coast Highway, with a harmonically complex New-Age sound.
Sor was called the "Beethoven of the Guitar" in the early 19th century, and toured as far as Russia. Barrios was a Paraguayan virtuoso and Guarani Indian who often wrote in folkloric styles and toured all over South America. Brouwer began as a guitar virtuoso/composer performing his avant-garde works at European festivals. York has toured and recorded with the world-renowned Los Angeles Guitar Quartet.
The Guitar Orchestra also will play F.M. Alvarez's La Partida (The Parting), a popular Venezuelan waltz where the guitarists strum syncopated rhythms. The orchestra will perform two movements from Federico Moreno Torroba's Rafagas (Whirlwinds) and a stately Renaissance Galliard by Michael Praetorius.
Concerto grosso op. 3 no. 8, one of Antonio Vivaldi's more popular concertos is back by popular demand of students who heard the piece at last spring's concert. KSC music students David Ross, Nic Tremblay, Ben Hoffman, and Michael Dillon will perform as soloists during the Vivaldi concerto.
Lezcano, who was Composer of the Year in 2002, has been teaching guitar, music theory, and Latin American music at Keene State since 1991. He received two honors in 2003: a New Hampshire State Council on the Arts Individual Artists Fellowship and Keene State College's Award for Distinction in Research and Scholarship in recognition of his activities as performer, scholar, and composer. He was recently selected for the 2004-05 New Hampshire Touring Artist Roster and lectures around the state on the mythical traditions of the indigenous guitar in Ecuador.
Related Stories