Scholar and Author Stephen Greenblatt to Speak at Keene State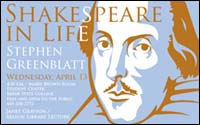 KEENE, N.H. 3/20/05 - In the _New York Times _bestseller Will in the World, eminent Shakespeare scholar Stephen Greenblatt describes how a young man from a small provincial town - a man without independent wealth, without powerful family connections, and without a university education - moves to London in the late 1580s and becomes the greatest playwright of all time.
Greenblatt will deliver the Janet Grayson/Mason Library lecture at Keene State College on Wednesday, April 13, at 4:30 p.m. in the Mabel Brown Room of the Student Center. In his talk "Shakespeare in Life," Greenblatt will address how Shakespeare's astonishing achievements came about - how Shakespeare became Shakespeare. The lecture is free and open to the public.
Greenblatt is the John Cogan University Professor of the Humanities at Harvard University. Among his areas of scholarship are the life and works of Shakespeare, 16th- and 17th-century English literature, the literature of travel and exploration, and literary theory. Among his many publications are the books Will in the World: How Shakespeare Became Shakespeare; Hamlet in Purgatory; Practicing New Historicism; Marvelous Possessions: The Wonder of the New World; Learning to Curse: Essays in Modern Culture; Shakespearean Negotiations: The Circulation of Social Energy in Renaissance England; Renaissance Self-Fashioning: From More to Shakespeare; Sir Walter Ralegh: The Renaissance Man and His Roles; and Three Modern Satirists: Waugh, Orwell, and Huxley. He is also the general editor of The Norton Shakespeare and the associate general editor of The Norton Anthology of English Literature.
Greenblatt serves on the editorial or advisory boards of numerous journals and is an editor and cofounder of Representations, a Berkeley-based journal in which New Historicist articles regularly appear. His research has been supported by fellowships and grants from the National Endowment for the Humanities, the Guggenheim, Howard, and Kyoto University Foundations, and the American Council of Learned Societies. He has received the James Russell Lowell Prize of the Modern Language Association of America (MLA), the British Council Prize in the Humanities, and the Mellon Distinguished Humanist Award. He has been elected to membership in the American Academy of Arts and Sciences, is a permanent fellow of the Institute for Advanced Study in Berlin, and has served as president of the MLA.
He has lectured widely and has held numerous visiting professorships. His named lecture series include the Clarendon Lectures at Oxford, the Carpenter Lecturers at the University of Chicago, and the University Lectures at Princeton.
For more information, call Nona Fienberg, dean of Arts and Humanities, at 603-358-2772.
Related Stories