Piano Duets Celebrate the Arts of Tsarist Russia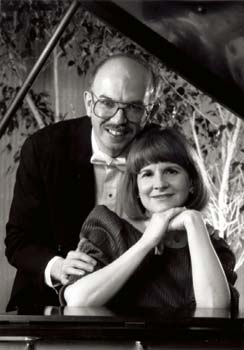 KEENE, NH, 3/3/05 - Boston pianists Barbara and Gerhardt Suhrstedt will present "Slava: The Glory of the Arts in Tsarist Russia," Wednesday, March 23, at 7:30 p.m.
The concert, in Keene State College's Redfern Arts Center on Brickyard Pond, will weave a tapestry of Russian music, art, and poetry that was celebrated in Russia from 1800 until the 1917 revolution. The concert is supported by a corporate sponsorship from Peerless Insurance.
Tickets, available through the Brickyard Pond box office at 603-358-2168 or www.keene.edu/racbp, are $12 for the general public, $10 for seniors and KSC faculty and staff, $7 for youth 17 and younger, and $5 for KSC students with ID.
The Suhrstedts will also give a lecture/demonstration, which will feature some work from the concert at Brickyard Pond from 2 to 3 p.m. on Wednesday, March 23. The lecture/demonstration is free and open to the public.
The Suhrstedts, who presented their first piano duet concert in 1979, are one of America's few touring one-piano, four-hand teams. Since their 1982 New York City debut, they have performed in more than 40 states, in Canada, and in Russia. "Slava" is the creative result of their six Russian concert trips since 1998, where they've performed at St. Petersburg's historic Rimsky- Korsakov Conservatory and have given three concerts at the Grand Palace in Peterhof.
Not only will "Slava" showcase the talents of the Suhrstedts but it will also feature a panoramic slide show of works by such Russian artists as Levitan, Nesterov, Kandinsky, Repin, Vasnetsov, and Perov, among others. Keene State student Svetlana Knorr will read poetry by such Russian authors as Pushkin, Lermontov, and Akhamatova.
Among the musical compositions on the program are Glinka's "Overture to Russlan and Ludmilla," Tchaikovsky's "Marche Slav," Dvorak's "Slavonic Dance in C Major," and the "Russian Dance" and "Shrovetide Fair" from Stravinsky's "Petrushka."
Related Stories