Brattleboro Artist Wins People's Choice Award at Thorne Art Gallery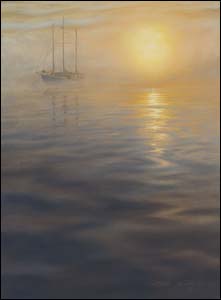 KEENE, N.H. 2/28/05 - William H. Hays of Brattleboro, Vt., has been chosen the winner of the People's Choice Award for his oil painting "Sunset Mooring, Nova Scotia" in the 2005 Biennial Regional Jurors' Choice Competition at the Thorne-Sagendorph Art Gallery. Hays won this award based on votes by visitors to the regional exhibition, which continues through Sunday, March 6. This year's competition celebrates 10 years of presenting juried exhibitions at the Thorne gallery on the Keene State College campus.
Out of 355 votes cast, Hays's painting of a fog-shrouded sailboat at sunset received the most ballots. He will receive a $100 cash award sponsored by the Friends of the Thorne along with a People's Choice Commendation.
Hays said he was inspired to create the landscape following an afternoon fishing excursion along the south shore of Nova Scotia near Port Mouton. "On our return the sun was setting and the fog was beginning to roll in," Hays recalled. "I remember tapping my wife on the shoulder and telling her that I thought the sun was the very definition of the color yellow."
Coincidentally, Hays and "Sunset Mooring, Nova Scotia" are featured in the April issue of American Artist magazine in the article "Painting the Flow, Color, and Rhythm of Water."
His painting is one of 128 pieces of art selected for the regional exhibition by jurors Sean Dye, who teaches in the Department of Art and Art History at the University of Vermont in Burlington, and Andrew Spahr, chief curator at the Currier Museum of Art in Manchester, N.H. The jurors chose these works from among 427 pieces of art submitted by 170 artists who live within 30 miles of Keene or who are members of the Friends of the Thorne.
Hays, owner of the Artists' Loft B&B; and Gallery on Main St. in Brattleboro, also has another landscape painting in the regional exhibition. His work also was chosen for the 1993 Biennial Regional Jurors' Choice Competition at the Thorne. In 2004, he had a solo exhibition To Vermont from the Heart, displayed in the offices of the Governor of Vermont in Montpelier and his work was chosen for the juried 54th Annual National Exhibition of Contemporary Realism in Art by the Academic Artists Association in Springfield, Mass.
Hays, who helped launch Brattleboro's now popular Gallery Walk in 1995, received a bachelor of fine arts degree in sculpture from the University of Alaska in Anchorage. He works in oils and watercolors and does portraits as well as landscapes. He has been painting for more than 30 years in both media. He began working in representational landscapes and, while living in Alaska, branched out into abstract imagery, performance, video, installations and sculpture. Since moving to Vermont in 1987, he has come full circle with a renewed concentration on the landscape around him. He and his wife, Patricia Long, also have a home studio, office, and bed and breakfast in Nova Scotia.
A free guided gallery tour of the Regional Jurors' Choice exhibition will be offered by Keene State art student Beth LaRoche at 3 p.m. on Sunday, March 6. Reservations are not required.
The Thorne Gallery is open noon to 4 p.m. Saturday through Wednesday and noon to 7 p.m. Thursday and Friday. The exhibit and tour are free and open to the public. For information, call 603-358-2720.
Related Stories