Eat Well, Little Cells - Lung Disease Research Begins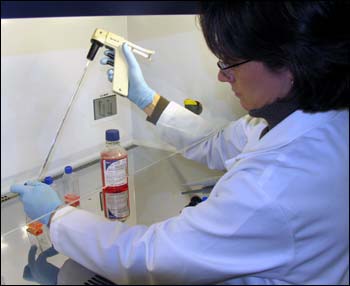 A brew of fetal bovine serum and antibiotics might not be everyone's glass of gatorade, but lung cells thrive on it.
The feeding of the cells, which took place in the lung disease research lab in Butterfield Hall last Thursday, was the opening experiment in the $1-million research project at Keene State that will help identify airborne pollutants and investigate their effect on human lungs.
According to Melinda Treadwell, assistant professor of technology, design and safety, one of the project's goals is to grow healthy lung cells in the lab. In later experiments, the cells will be exposed to the metal particles present in different types of pollution, with the response of the cells to the exposures measured.
First, the cells need to grow and reproduce, to provide the researchers - including UNH graduate assistant Jaime Ingalls - with an ongoing supply of new tissue. The cells, which are purchased commercially, were stored frozen in a canister of liquid nitrogen. Working under a sterile hood, Melinda split the cells into three groups using a pipette and fed them the liquid mix. The flasks of cells and liquid food were put in an incubator, where they will begin growing. A check on Friday showed that the cells had begun forming a carpet on the floor of their flasks, a good sign, says Melinda.
The Keene State project is one of five under a $12-million National Institutes of Health grant to investigate different elements of lung disease in the Northeast. The project is being led by researchers at Dartmouth College.
Related Stories