America's Preeminent All-Woman African-American Dance Company Visits Keene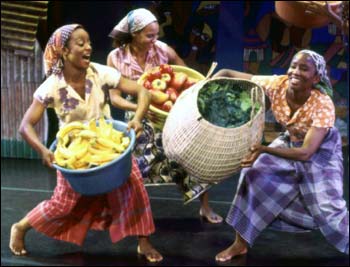 KEENE, NH, 1/31/05 - Hailed as one of America's preeminent dance companies, Urban Bush Women (UBW) will appear at Keene State College's Redfern Arts Center on Brickyard Pond, Thursday, February 17 at 7:30. This Brooklyn-based performance ensemble engages a diverse audience by producing bold and life- affirming dance theater based on women's experiences, African-American history, and cultural influences of the African Diaspora.
UBW returns to Keene after a 14-year absence as part of their 20th anniversary celebration tour in a special program of new work and some of the more memorable dances from their repertory. The appearance by UBW is part of Keene State's celebration of Black History month. The tour and the Keene performance is made possible in part by the National Dance Project of the New England Foundation for the Arts, with lead funding from the National Endowment for the Arts and the Doris Duke Charitable Foundation. Additional funding is provided by The Andrew W. Mellon Foundation and the Altria Group.
Tickets are available through the Brickyard Pond box office, 603-358-2168, or on the web at www.keene.edu/racbp. Prices are $26 and $22 for the general public, $24 and $20 for seniors and KSC faculty and staff, $14 and $12 for youth 17 and younger, and $5 for KSC students with ID.
Founded in 1984 by Artistic Director Jawole Willa Jo Zollar, UBW has performed extensively in New York City and has toured throughout the United States and in Asia, Australia, Europe, and South America. The Company, which has been commissioned by theatres nationwide, includes among its honors a 1992 New York Dance and Performance Award ("Bessie"), the 1994 Capezio Award for Outstanding Achievement in Dance, and a 1998 Doris Duke Award for New Work from the American Dance Festival.
UBW's Redfern Arts Center program will include Walking with Pearl, a new work by Zollar, which traces the life journey of the original urban bush woman, African-American dance pioneer/social activist Pearl Primus. In creating the work, Zollar recently said that, "My direct inspiration here is Pearl Primus. I heard Dr. Primus speak at a conference shortly after I had formed the Company. There was a statement that she made that affirmed my direction and purpose in forming UBW. She said that it was necessary for African-Americans to study African dance, but not to the detriment of overlooking African- American dance traditions. It is her legacy as an artist dedicated to social change that resonates deep within me. In making Walking With Pearl, I am interested in preserving history and in honoring Pearl's legacy."
Batty Moves, also on the program, was made by Zollar in 1995. In the Caribbean, the word "batty" is used to describe the buttocks. With a tone that is both defiant and celebratory, Batty Moves directly challenges the audience to question their own notions of physical attractiveness and appropriate movement. The original percussion score is by Junior Wedderburn.
Jawole Willa Jo Zollar made Girlfriends in 1986 as a way to honor the camaraderie she shared with college girlfriends. Girlfriends captures intimate moments of joy, sorrow, encouragement and outright silliness among close friends.
This year UBW launched a bi-annual effort to commission a new work by an emerging female choreographer. This new work by Bridget L. Moore will be a part of the company's 20th Anniversary Season Program.
Related Stories