Pianist Virginia Eskin Highlights Keene State Recital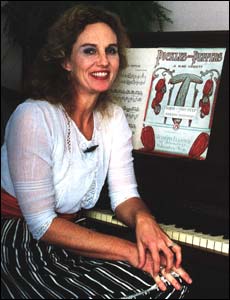 KEENE, N.H. 1/26/05 - Internationally known pianist and music educator Virginia Eskin is featured in a "Women's Music" Faculty and Guest Artists' Recital at 7:30 p.m. Wednesday, Feb. 16, in the Alumni Recital Hall of the Redfern Arts Center on Brickyard Pond. Tickets are $7 for general public and $5 for KSC students, senior citizens, and youth 17 and younger. Call the box office at 603-358-2168.
Faculty artists Gladys Johnsen, Pamela Stevens, and Diane Cushing perform with an all-female vocal ensemble of 16 KSC faculty, students, and community singers. Johnsen is the ensemble's choral director and coordinator of the concert. The program showcases women's music from the past and present including works by Henniker, New Hampshire, composer Amy Beach, twelfth- century composer Hildegard von Bingen, and KSC alumna Louise Dierker. Keene State faculty George Loring, organ, and José Lezcano, guitar, also perform.
Eskin, who is a scholar of Beach, performs two of the composer's works: The Chambered Nautilus, written for women's voices, piano and organ, and Balkan Variations, Book I, which she plays alone.
"The harder the music, the better Eskin plays. …She's not just a pianist but a communicator," wrote Boston Globe critic Richard Dyer following a concert performance.
Eskin is well known for her Ragtime Project of recordings and the program includes several such tunes. The vocal ensemble and Eskin perform May Aufderheide's "Totally Different Rag," Elsie Janis's "Anti-Ragtime Girl," and Adaline Shepherd's "Pickles 'n Peppers." Judith Lang Zaimont's "Judy's Rag," and Libby Larsen's "Mephisto Rag" also are on the program. Johnsen, Stevens, Cushing, and Jean Nelson as a vocal quartet join Eskin on Larsen's composition. American Record Guide, reviewing Eskin's Fluffy Ruffle Girls CD, calls her technique "impeccable …she displays a wonderful affinity for ragtime."
Eskin performs two songs from Six Miniatures for Piano by New Hampshire composer Louise Dierker, a 1996 KSC Department of Music alumna. After a 25-year career in medicine, Dierker recently received a master's of music degree in composition with distinction from the Longy School of Music, Cambridge, Mass.
Eskin also plays "Songs Without Words" by Fanny Mendelssohn, older sister of 19th-century German composer Felix Mendelssohn, and "Preludes" by Marion Bauer, an early-20th-century American composer who championed atonal music.
A recent member of the music faculty at Northeastern University in Boston, Eskin has performed as a soloist throughout the United States and Europe. She appears regularly on college campuses as both a speaker and performer. She is a lecturer for the Boston University Evergreen Series and has been a guest on National Public Radio's "All Things Considered." In 1994, she received an honorary Doctorate of Humane Letters from Keene State College in recognition of her work as a concert pianist and music educator and her role in summer music festivals in the Monadnock region. She has homes in Boston and Jaffrey, N.H.
Prior to the concert, Eskin will present two music workshops for KSC students at noon and 2 p.m. in the Recital Hall. The workshops are free and open to the public.
KSC contributors to the concert and workshops are the Department of Music, the Women's Studies Department, the School of Arts and Humanities, the President's Commission on the Status of Women, the Campus Commission on the Status of Diversity and Multiculturalism, and the KSC chapter of the Music Educators' National Conference (MENC).
Located off Wyman Way, the Redfern Arts Center is accessible to people with disabilities. To request accommodations for a disability, please call the box office, 603-358-2168, at least two weeks before the recital.
Related Stories