Montreal's Cas Public Dance Company Visits the Redfern Arts Center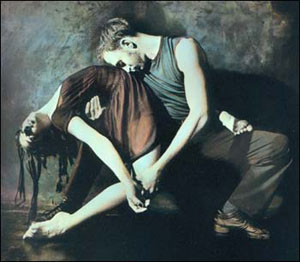 KEENE, NH, 1/20/05 - "Breathtaking stuff" is how The London Times described the work of Cas Public, one of Canada's foremost dance companies. The Montreal-based group is now set to appear at Keene State College for two performances - on Tuesday, Feb. 8, at 10 a.m. and Wednesday, Feb. 9, at 7:30 p.m. The two-day residency is made possible through support from the Quebec Ministry of Culture and the New Hampshire State Council on the Arts. The residency is an exchange fostered by the New Hampshire Quebec Dance Alliance. Keene State is the hub site for the Alliance.
The February 8 performance, entitled "If You Go Down to the Woods Today," is particularly suited for elementary school children as a wonderful introduction to modern dance. Conceived and choreographed by the group's artistic director, Hélène Blackburn, the dance navigates the audience through the thorny world of childhood fears: fear of the dark; fear of robbers; fear of growing up; fear of being considered different - to a place of resolution and hope. The dancers punctuate movement with spoken word and meaningful gestures. "Thanks to the dancers' acting skills," wrote a reviewer for The Toronto Star, "'If You Go Down To The Woods Today' does for dance what 'Peter And The Wolf' has done for symphonic music."
The February 9 concert, entitled "Courage Mon Amour," is the latest dance in the company's repertoire. It focuses on the overlapping of contemporary and classical dance and the use of the voice and sign language to answer a simple yet daunting question: Why dance? Dance Magazine described the work as "tough, explosive, unrelenting, and urban-chic. Taking advantage of classical technique, Blackburn twists and sharpens it, lopping off the preparations, and pressing the fast-forward button. The resulting visceral vigor is mind blasting: Cas Public's technical dancers pack many contrary moves into each split second."
Tickets for both performances are available through the Redfern Arts Center on Brickyard Pond's box office, at 603-358-2168. Tickets for the school performance are $6. For the evening performance tickets are $20 and $16 for the general public, $18 and $14 for seniors and KSC faculty and staff, $11 and $9 for youth 17 and younger, and $5 for KSC students with ID.
Related Stories