NH and VT Artists Win Awards in Thorne's Regional Show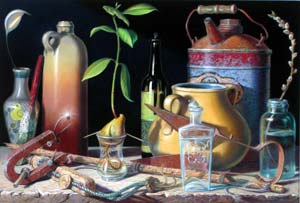 KEENE, N.H. 1/5/05 - New Hampshire and Vermont artists won awards in the 2005 Biennial Regional Jurors' Choice competition at the Thorne-Sagendorph Art Gallery. This year's competition celebrates 10 years of presenting juried exhibitions at the Thorne gallery on Wyman Way on the Keene State College campus.
Seven artists were selected to receive awards by jurors Sean Dye, who teaches in the Department of Art and Art History at the University of Vermont in Burlington, and Andrew Spahr, chief curator at the Currier Museum of Art in Manchester, N.H. Dye holds a master's degrees in fine arts and Spahr has a master's degree in art history.
Dye and Spahr also chose for exhibition 125 pieces of art by artists who live within 30 miles of Keene or who are members of the Friends of the Thorne Art Gallery. Dye and Spahr said they were very impressed with the quality and quantity of artwork submitted to the competition, with 170 artists submitting 427 pieces of art. To commemorate the 10th anniversary of the Thorne's juried competition, it will be the only exhibition displayed in both galleries from Saturday, Jan. 22 through Sunday, March 6.
Robert K. Carsten of Springfield, Vt., won the Jurors' Best of Show Award of $500 sponsored by the Friends of the Thorne-Sagendorph Art Gallery, for his pastel painting, "Renewal" (seen above).
"In this piece, Carsten shows his complete mastery of the pastel medium. His understanding of light and form is complemented by his fresh use of color and superb draftsmanship," explains Dye, an award-winning multi-media artist himself, who is president and founder of the Vermont Pastel Society and also is a member of the Pastel Society of America, the Degas Pastel Society, and the Sierra Pastel Society.
Patricia Schappler of Hudson, N.H., won Second Place, $300, for "Élan," an acrylic and collage work. "In this large, gutsy piece, Schappler seems to capture all of the emotion of her young subject in a fluid manner without struggle," explains Dye.
Jim Giddings of West Brattleboro, Vt., won Third Place, $200, for "Four Men on a Back Road," an oil stick on paper painting. "In this work there is a mysterious atmospheric quality that forces the viewer to ponder the space these figures inhabit as well as their purpose," says Dye.
Four honorable mentions, all of which carry cash awards, were selected: Karen Becker of Putney, Vt., for "Red Breasted Nuthatch," a charcoal and monoprint work; Myles T. Danaher of Brattleboro, Vt., for "Venus Revealed," a pastel painting; Ralph DeAnna of Brattleboro, Vt., for "The Rabbi," a pastel on paper painting; Jude Roberts-Rondeau of Brattleboro, Vt., for "Georgian Bay Camp," an oil on paper painting.
"A primary goal (of the jurors) was to include as wide a range of work as feasible in order to give gallery visitors as complete a picture as possible of the vital and vibrant visual arts community in the region," says Spahr, who has been at the Currier since 1994. Prior to that time, he was curator of exhibitions at the American Federation of Arts in New York City, curator at the Art Museum Association of America in San Francisco, and a research associate at the Metropolitan Museum of Art in New York City.
An awards ceremony takes place at 6 p.m. on Friday, Jan. 21, during the opening public reception hosted by Friends of the Thorne from 5 to 7:30 p. m. at the gallery. Visitors to the gallery will be asked to vote for a People's Choice Commendation of $100, which will be announced Feb. 28.
Free guided gallery tours of the Regional Jurors' Choice exhibition are offered by Keene State art student Beth LaRoche at 3 p.m. on Sundays. Reservations are not required.
The Thorne Gallery is open noon to 4 p.m. Saturday through Wednesday and noon to 7 p.m. Thursday and Friday. The reception, exhibit, and tours are free and open to the public. For information, call 603-358-2720.
Related Stories