KSC Students, Faculty Seek New Connections with Local Community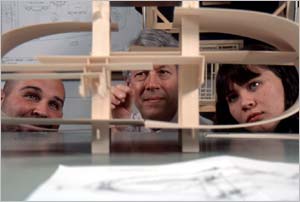 Note: This story is about the 2005 Service Learning Summit. The 2006 Service Learning Summit will be held February 3, 2006.
KEENE, N.H. 12/9/04 - A Service Learning Summit, to be held at Keene State College on Friday, January 28, will bring together KSC faculty and students and community leaders from local nonprofit and public agencies to create a formal service-learning initiative at the College.
All faculty, students, and community partners are invited to attend the summit and find out more about service-learning, its benefits and challenges, how to initiate a service-learning project, and how service-learning advances the College and local communities while academically challenging students, says Therese Seibert, associate professor of sociology and co-chair of the Service- Learning Initiative leadership team.
Service-learning is not a new concept at Keene State. In a recent survey carried out by the leadership team, more than 20 faculty members indicated that service-learning was a requirement of some of their courses, says Seibert. Many others noted they would like to find out more about service- learning.
Service-learning is different from internships and volunteer work in that students are required to apply what they learn from their course work to their service. The service is driven by the academic learning goals of the course, which can be rigorous, explains Mike Hanrahan, instructor of computer science and co-chair of the Service-Learning Initiative Leadership team. At the same time, service projects should enhance student learning and help students meet course goals. For example, Peter Temple, associate professor of technology, design and safety, developed the problem-based service-learning model used in the architectural design program.
According to Temple, "service-learning is a key part of the program. Much of the curriculum is project-based, and students progress through a series of realistic design problems of increasing complexity." In the Communicorps program, students design projects every year for local non-profit organizations, such as affordable housing, community centers, a fire station, and school additions.
The purpose of the summit will be to create an action plan toward a more formal and concrete service-learning initiative at KSC, says Seibert. There will also be a chance at the summit for students and faculty to present existing service-learning projects.
To register, contact Karrie Kalich, instructor in health science, at 8-2885 or kkalich@keene.edu. The deadline to register is January 21.
Related Stories