KSC Chamber Singers and Concert Choir Sing 'A Season Of Glorias'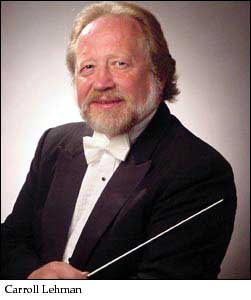 KEENE, N.H. 11/19/04 - The Keene State College Chamber Singers and Concert Choir will perform "A Season of Glorias" concert, in which every song has "gloria" in the title, on Sunday, Dec. 5, at 3 p.m. in the Alumni Recital Hall of the Redfern Arts Center on Brickyard Pond. Tickets are $7 for the general public and $5 for KSC students, senior citizens, and youth age 17 or younger. Call the box office at 603-358-2168.
Professor Carroll Lehman will conduct the KSC Chamber Singers, a select group of 22 singers, who will be accompanied by organist George Loring, KSC artist- in-residence, in performing several settings of the "Gloria" ("Glory to God in the Highest"), a joyful hymn of praise that is one of five musical settings of a Latin Mass.
The Chamber Singers will perform Vilvaldi's "Gloria" with student soloists Caitland McDougall, Bonnie Fagan, Rachel Conway, Amybeth Fichera, and Iris Yaun. A Spanish-flavored "Gloria" by Ariel Ramirez will feature soloists Anna Barbato, Sophie Holly, and Mark Wilson. The program also includes an interpretation of Mendelssohn's "Gloria" from his beautiful E-Minor Mass.
Music faculty member Diane Cushing will conduct the KSC Concert Choir, a group of more than 50 male and female singers, accompanied by organist Scott White, who is a KSC staff accompanist. The Concert Choir will do a selection of songs from many eras, including "And the Glory" from Handel's Messiah, Mozart's "Gloria" from the Twelfth Mass, a spiritual "Glory, Glory to the Newborn King" by Moses Hogan, and "Gloria" by Randol Alan Bass.
Lehman, a member of the Keene State faculty since 1978, also is the conductor and music director of the Monadnock Chorus in Peterborough. Under his direction, the chorus has toured Italy, Austria, Germany, Spain, Portugal, Greece, and Scandinavia. He has conducted the New Hampshire Friendship Chorus and Orchestra on tours of Russia, Latvia, Estonia, and South Africa. Lehman also formed the KSC Oratorio Society, which has performed many major choral masterworks with orchestra.
Cushing, who teaches voice at Keene State, is the founder and director of the Greater Gardner Youth Choir and the Mount Wachusett Community Choir, which toured Italy in the spring. Cushing, a soprano, also has been a featured soloist with the Monadnock Chorus, the Master Works Chorale of Boston, Boston Baroque, and many other groups.
Related Stories