Keene Community Invited to Grenada Relief Meeting at KSC Nov. 16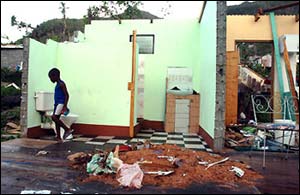 KEENE, N.H. 11/10/04 - A Keene State College student and a faculty member are the driving forces behind the KSC/Monadnock Region Relief Fund for Grenada, a campaign to assist the people of the Caribbean nation that was devastated by Hurricane Ivan this past September.
Over two days, Ivan killed 39 people, left 90 percent of the tiny nation's population of 100,000 homeless, and destroyed nearly all the cocoa and nutmeg plantations, which, along with the damaged tourism industry, are the mainstays of the country's economy. Now, two months later, many families are living under tarpaulins, clean drinking water and food are scarce, and disease is sweeping through communities, especially affecting small children and babies.
The relief campaign will be discussed at a meeting on Tuesday, Nov. 16, at 7 p.m. in the Madison Street Lounge of the Student Center at Keene State. The purpose of meeting, said Pam Smith, an associate professor of health science/nutrition at KSC who worked as a volunteer for the Grenada Food and Nutrition Council for four months earlier this year, is to present information about the situation facing Grenadans and what people in the Monadnock region can do to help. Smith and student Trish Baird, whose father is from Grenada, started the campaign.
"We hope that people from our community will bring their ideas about how we can help in Grenada," said Smith. "We're sure that there are people here who have connections with Grenada, whether visiting as a tourist or knowing people who live there."
Among aid being considered is donations of food, summer clothing, medical items, and hardware, and money for purchasing these supplies. Smith has already organized a distribution for aid through an arrangement with St. Georges University, a medical school in Grenada. Drop boxes for donations of food and other items have also been placed around the College campus, Smith said.
Checks should be made out to KSC Grenada Fund and mailed to the Office of Advancement, Keene State College, 229 Main St., Keene NH 03431-2701.
People planning on attending the meeting are also invited to bring a donation. Suggested items include non-perishable foods such as peanut butter (in plastic jars), dried beans, and powdered milk; blankets and sheets; tents, tarpaulins, ropes, duct tape, batteries, and flashlights; emergency first aid kits; and water purification tablets, medical dressings and gloves, antiseptic creams, and sterile wipes.
For more information, contact Pam Smith, associate professor of health science/nutrition, at 603-358-2860 or psmith@keene.edu.
Related Stories