Native American Artists and Their Messages Subject of Lecture at Thorne Gallery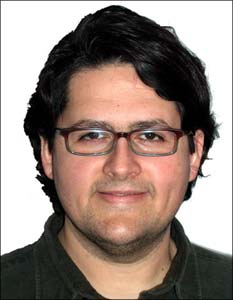 KEENE, N.H. 11/1/04 - Native American artists and their artistic messages will be explored by artist John Hitchcock from the University of Wisconsin-Madison in a public lecture on Thursday, Nov. 18, at 7 p.m. at the Thorne-Sagendorph Art Gallery at Keene State College.
Hitchcock will present "A Voice from America: Construction and Perception," a multi-media presentation about how contemporary artists from native communities address political, social, and personal views through their artwork. A few of the artists Hitchcock will speak about include up-and-coming artists Anthony Deiter, Steven Deo, Rosalie Favell, and Melanie Yazzie along with more established artists such as Truman Lowe, Edgar Heap of Birds, Larry McNeil, Jolene Rickard, James Luna, Richard Ray Whitman, Joanna Bigfeather, and Jaune Quick-to-See Smith. Quick-to-See Smith's work comprises one of three exhibits celebrating Native American art and culture at the Thorne Gallery through Dec. 5.
Hitchcock is originally from Medicine Park in the Wichita Mountains near Lawton, Okla. He grew up on indigenous lands next to Fort Sill, one of the oldest military bases in the western United States. His upbringing was very diverse. His mother's side of the family is Kiowa/Comanche and his father's side is German/Northern European.
His current artworks are a blend of printmaking, digital imaging, and installation that depict personal, social, and political views. His work asks many questions that center on the issues of abundance and consumption prevalent in American society. Focusing on current governmental controls on everything: from foods to homeland security, from media to the Patriot Act, from art to morality, the work speaks about and questions America's materialistic nature and presumed divine privilege. His work has been part of group exhibitions at the Institute of American Indian Art Museum in Santa Fe, N.M., Exit Art in New York City, and galleries in Germany, South Africa, Brazil, Ireland, Spain, and Chile.
An assistant professor of art at the University of Wisconsin-Madison, Hitchcock teaches screen-printing, relief cut, digital mixed media prints, and installation art. Hitchcock holds a master of fine arts degree from Texas Tech University in Lubbock and a bachelor of fine arts from Cameron University in Lawton, Okla. He is the recipient of many academic honors and awards. He has also taught at the University of Minnesota-Morris and Texas Tech University.
Hitchcock is being brought to campus through a Keene State College Alumni Association grant to make education components of the Thorne exhibits available to KSC students. Hitchcock also will speak to classes during his stay on campus Nov. 18 and 19. The lecture is co-sponsored by the Thorne Gallery, the KSC Commission on Diversity and Multiculturalism, and the KSC Department of Art.
The public lecture and classroom presentations complement three exhibits celebrating Native American Culture open through Dec. 5 at the Thorne Gallery.
"Jaune Quick-to-See Smith: Made in America" is an exhibition of drawing, printmaking, painting, and mixed media installation that examines American Indian life in contrast to the consumerism of American society.
"Vision Quest: Men, Women, and Sacred Sites of the Sioux Nation," is a photography exhibit by Don Doll, S.J., professor of journalism at Creighton University in Omaha, Neb., that looks at contemporary Sioux people who have chosen to carry the traditions and culture of their people to future generations.
"Mid-Century Traditions: Native American Dolls from the 1950s" is an exhibit of 24 dolls handcrafted by Native Americans living on reservations throughout the United States. The dolls are part of the Doyle Collection of Native American Dolls, on loan from the Robbins Museum of Archaeology in Middleborough, Mass.
The lecture and exhibits are free and open to the public. The gallery is open from noon to 4 p.m. Saturday through Wednesday, and noon to 7 p.m. Thursday and Friday. It is closed Nov. 11 for Veterans Day and Nov. 24-28 for the Thanksgiving break.
The gallery is accessible to people with disabilities. To request accommodations for a disability, please call the gallery at least two weeks before your visit. For information, call 603-358-2720 or visit www.keene.edu/tsag.
Related Stories