LEC: Men's Soccer Advance to Finals; Field Hockey and W. Soccer in Semifinals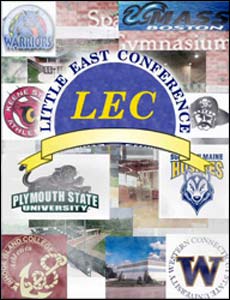 KEENE, N.H. 11/4/04 - The top-seeded Keene State College men's soccer team (15-3-1)stamped its ticket to the Little East Conference Championship game with a 2-0 victory over fourth-seed Eastern Conn. Second-seed R.I. College will join the Owls in the finals. The Anchormen (11-7-2) advanced with a 3-1 win over third-seed Plymouth State. The Championship game at Owl Athletic Complex will be played Saturday at 2:30 p.m.
Keene State will be in the hunt for its fourth LEC title. "We didn't play well against Eastern Conn.," said KSC Coach Ron Butcher. "The players know what's at stake and I'm sure they'll be ready on Saturday."
The semifinal fields are now set for the 2004 Little East Conference women's soccer and field hockey tournaments.
Top seed Keene State (11-5-2), which received a bye in the opening round of the women's soccer tournament, will host fourth seed Southern Maine (8-7-4) in a semifinal game (1 p.m.) on Friday at Owl Athletic Complex. Second seed Eastern Conn. (14-4-1)will play #3 Western Conn. (14-5-1) in the other semifinal contests at 2:30 p.m. Southern Maine defeated fifth seed Plymouth State 4-1 and Western Conn. edged Plymouth State 3-1 on Tuesday to advance in the tournament.
The Owls battled Southern Maine to a 1-1 overtime draw earlier this season. "They gave us a tough game the last time we met," said KSC Coach Denise Lyons. "We're going to have to make the most of our opportunities to score on Friday."
The recipients of a first round bye, the top seeded Keene State field hockey team (12-7) will play fourth seed Framingham State (10-6) in a semifinal game scheduled for Friday (noon). Framingham moved on by edging fifth seed Westfield State 2-1. "It's a good draw for us," said KSC Coach Amy Watson. "We're both turf teams, so each team can get up and down the field."
That was the case the last time the two teams met when nine goals were put up on the scoreboard with the Owls prevailing 6-3.
Second seed Plymouth State (14-3) will face sixth seed Worcester State (11-6) in the other semifinal game at 2:30 p.m. PSU advanced with a 4-1 win over seventh seed Eastern Conn. while Worcester State gained a berth in the semifinals with a 4-0 upset win over third seed Fitchburg State. Both women's soccer and field hockey LEC championship games will be play at Owl Athletic Complex on Saturday at noon.
Related Stories