Keene State Presents 'Our Country's Good,' A Dark Comedy Set in Colonial Australia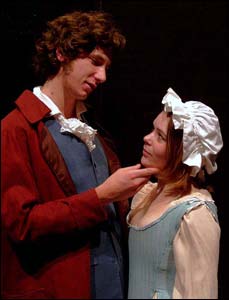 KEENE, N.H. 10/29/04 - Keene State Theatre and Dance presents Our Country's Good, a dark comedy set in 18th-century Australia, when the first English play ever staged "down under" is performed by mistreated convicts and their British officer superior. Based on historical fact, the play by Anglo-American playwright Timberlake Wertenbacker, will be presented Wednesday to Saturday, Nov. 17-20, at 7:30 p.m. in the Main Theatre of the Redfern Arts Center on Brickyard Pond. Tickets are $7 for the general public and $5 for KSC students, senior citizens, and youth 17 or younger. Call the box office at 603-358-2168.
Our Country's Good emphasizes the redeeming power of theatre as a means to explore different lives, and thereby make our own lives better, explains director Ron Spangler, assistant professor of theatre at Keene State. In the 18th-century the British held the belief that if you were born a criminal, so you would die a criminal; there was no expectation for people to improve during their lifetimes. This mindset applied to all peoples including the aborigines, who were considered uneducable and unredeemable savages.
As Our Country's Good begins, the prisoners live according to the low expectations of their jailers, who are British Royal Marines resentful about being ordered to look after convicts. One of the officers, a young married lieutenant, in an effort to improve his rank to first lieutenant, volunteers to direct a production of The Recruiting Officer, using convicts as his cast. As the convicts explore their roles, they begin to discover different, richer lives than those they lead and begin to expand their own lives in the process. The convicts and the lieutenant discover that all people, even prisoners, are capable of reaching beyond expectation.
"The play is about the redeeming value of theatre, of art in general, and how art tends to expand people's horizons, and in so doing, expand the possibilities in one's own life," says Spangler.
Although it may be a play that celebrates theatre, Our Country's Good deals with the historical ironies of the English as they began to unshackle their own people in Australia while at the same time they squelched the aborigines.
Shadow puppets are used to portray aborigines as well as birds, kangaroos, and other Australian wildlife. Professor Céline Perron and students in her technical theatre class designed the puppets. Aboriginal and classical European music is used to underscore scenes and emphasize the clash between the so-called savages and civilized classes, says Spangler.
The 12-member cast of KSC students, almost all play double roles with many jumping between prisoner and guard as intended by the playwright. Cast members from New Hampshire include Liz Ayers of Gilmanton, Shannon Sexton of Merrimack, Eben Gannett of Thornton, Phil Officer of Hanover, and Jennifer Pratt of Merrimack. The cast also includes Marisa Clement of West Hartford, Conn., Alex Carey of Cummaquid, Mass., Michael Schwartz of New Windsor, N.Y., Bridget Araujo of Shelton, Conn., Evan Lidestri of Niantic, Conn., Yuri Norton of Groton, Mass., and Hollie McGovern of Yorkshire, England. Meghan Fisher of Hudson, N.H., is the stage manager.
Related Stories