Owls Celebrate Senior Night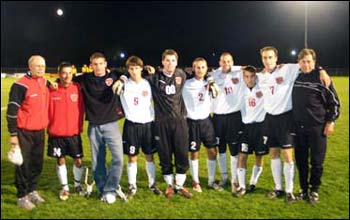 KEENE, N.H. 10/27/04 - John Hake (Leeds, Mass.) made it an extra special Senior Night at Owl Athletic Complex on Wednesday. The senior midfielder scored the winning goal at the 6:10 mark of the first overtime to lift the Keene State College men's soccer team to a dramatic upset win over Middlebury College.
The game featured a battle of two nationally ranked teams. Keene State (13-3-1) is ranked 21st nationally and third in New England while Middlebury (9-2-2) is ranked 16th in the country and second in the New England poll. In addition to Middlebury, KSC has knocked off nationally ranked teams Wheaton and Williams this season.
Heading toward the net, Harke took a perfect touch pass from Jason Lombardo and fired the ball into the net for the deciding goal. "It was one of the easiest goals I ever scored," said Harke with a laugh. Lombardo gave me a great pass.
"All the seniors we're really pumped," we wanted to remain undefeated (11-0) at home this season."
Middlebury had the best scoring opportunities in a scoreless first half. Gabe Wood's (Tacoma, WA) blast from 25-yards out just sailed over the cross bar. Later, KSC's Jimmy Hogan (Holderness, N.H.), who was lying on the ground, knocked away a loose ball to keep the Panthers off the board.
Hogan also turned in the defensive play of the game in the second half. With KSC goalie Brandon Beck (Johnstown, N.Y.) pulled out of position, Hogan headed away a shot from John Sales (Chatham, Ill) that would have broken the stalemate.
Beck finished with five saves to notch his third shutout of the season. Both Zach Toth (Carlisle, Mass.) and Craig Hirsh (Verona, N.J.) saw action in goal for the Panthers and did not have a save. It was Keene State's first win over Middlebury in three meetings.
Prior to the game Keene State's eight seniors; Jason Passifiume (Port Jefferson, N.Y.), Francisco Vasconcelos, Joey Amaio (Wethersfield, Conn.), Beck (Johnstown, N.Y.), Casey Banks (Westborough, Mass.), Lombardo (Woburn, Mass.), Harke (Leeds, Mass.), and Hogan (Holderness, N.H.) were honored.
Keene State concludes its regular-season with a Little East game at UMass- Dartmouth on Saturday (1 p.m.).
Related Stories