Recital to Benefit Apple Hill and Keene State's Playing for Peace Scholarships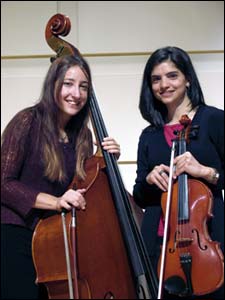 KEENE, 10/25/04 - In an unusual collaboration between Keene State College's Department of Music and the Apple Hill Center for Chamber Music, a special concert on Sunday, Nov. 7, at 3 p.m. will benefit scholarships for Keene State and Apple Hill's Playing for Peace Program. The scholarships are awarded each year to two talented young musicians from war-torn areas of the world to study music at Keene State.
The concert will be held in the Alumni Recital Hall of KSC's Redfern Arts Center on Brickyard Pond; tickets are available through the Brickyard Pond box office, 603-358-2168 or on the web at www.keene.edu/racbp. Tickets are $18 for the general public, $16 for seniors and KSC faculty and staff, $10 for youth 17 and younger, and $5 for KSC students with ID. Members of Brickyard Pond's 20/20 club may take 20 percent off general public, seniors, KSC faculty and staff, and youth ticket prices.
This year the music students are violist Nouran Meho from Amman, Jordan, and double bassist and pianist Talia Schwarzwald, who is from Jerusalem. Besides members of the Apple Hill Chamber Players and Keene State music faculty, former Playing for Peace Scholarship recipient Sara Cohen, from Jerusalem, will play cello in the concert.
The concert will begin with Max Bruch's "Kol Nidre, Op. 37" with KSC music faculty member pianist Maura Glennon and Ms. Schwarzwald playing double bass. Ms. Schwarzwald on the piano and Ms. Meho will be heard in Franz Schubert's Sonata in A Minor ("Arpeggione"), D 821. Sergei Prokofieff's "Cinq Mélodies, Op. 35" will be played by Ms. Glennon and violinist and KSC Music Department faculty member Kathy Anderson. Apple Hill Chamber Players Elise Kuder, violin; Michael Kelley, viola; Rupert Thompson, cello; and Eric Stumacher, piano, will be heard in Ludwig van Beethoven's Piano Quartet in E-Flat Major, Op. 16.
The afternoon will conclude with Schubert's Quintet in A Major ("Trout"), D 667, played by Ms. Andrew, Ms. Meho, Ms. Cohen, Ms. Schwarzwald on double bass, and Mr. Stumacher.
Related Stories