Erin Orr's Mysterious Adult Fairytale 'Savage Nursery' Comes to Keene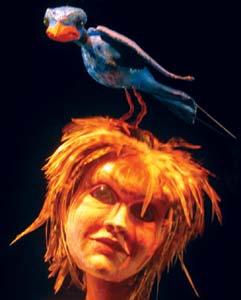 KEENE, 10/18/04 - Visual storyteller and puppeteer Erin Orr will bring her mysterious adult fairytale, Savage Nursery, to Keene State College's Redfern Arts Center on Brickyard Pond on Tuesday, November 2, at 10:00 a.m. and Wednesday, November 3, at 7:30 p.m.
Told without text, Savage Nursery examines how, in the face of lost love, identity is shaped and revealed. The performance is not recommended for youth under 12 years old. The audience is invited to stay after each performance to discuss the play with Orr, the puppeteers, and musicians.
The Village Voice wrote that Savage Nursery was a work of "incredible imagination, which hatches fantastic creations as they break out of the limits of reality and theatrical conventions." As the title, Savage Nursery, indicates, puppeteer Orr's work is a far cry from Kukla, Fran, and Ollie or Kermit. This is puppet-noir.
Savage Nursery explores the ways hunger, loneliness, and resilience in the face of lost love affect and transform identity. By depicting the struggle of a bird-woman to care for her still-nested fledglings and the assertiveness of one rebellious young bird, Orr creates a rich tableau of threat and existential striving. She utilizes a number of different puppetry styles- shadow, Japanese Bunraku rod style, and hand puppetry-to evoke an air of mystery and poetry. Impressive for the cooperative effort and skill required by the puppeteers, Bunraku is a uniquely Japanese form of puppet-theater.
Each puppet is a bit more than half life-size, and is operated by a team of puppeteers who wear black clothing and hoods (they are considered invisible) and bring the big, colorful puppets to life. The puppeteers must perform a delicately coordinated dance to operate the large puppets.
Of particular interest in the production is the music, composed and performed by Sxip Shirley and Rima Fand. The musicians use an amazing array of instruments and sound effects throughout the performance, including a jaw harp, reverse music boxes, and even a marble in a glass bowl.
The Keene performances are part of a New England tour that was made possible through a commission by HERE's Dream Music Puppetry Program with additional support from the Expeditions Program of New England Presenters, Arts Presenters of Northern New England, New England Presenters, the Hopkins Center at Dartmouth College, the Redfern Arts Center on Brickyard Pond, Keene State College, and the Henson International Festival of Puppet Theatre.
Tickets are available through the Brickyard Pond Box Office, 603-358-2168, or on the web at www.keene.edu/racbp. Prices are $16 for the general public, $14 for seniors and KSC faculty and staff, $9 for youth 17 and younger, and $5 for KSC students with ID.
Related Stories