KSC Science Center Campaign Passes $4-Million Goal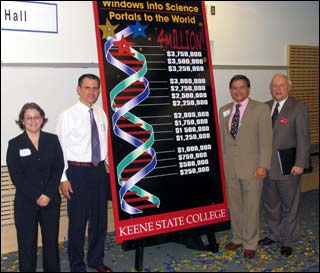 KEENE, N.H. 10/15/04 - Recent campaign pledges from the U.S. Department of Justice, Peerless Insurance and Rist-Frost-Shumway Engineering have taken Keene State College's Science Center fundraising campaign past its $4-million goal.
The fundraising milestone was announced at a celebration for major campaign donors at the College on Friday, Oct. 15.
The $4-million campaign, named "Windows into Science, Portals to the World," was integral to the $23-million cost of the new facility. The first $19 million for the facility - the most ambitious construction project in KSC history - was funded by the state legislature through KEEP-NH, the University System of New Hampshire's Knowledge-Economy Education Project.
The new Science Center, which opened on August 30, houses research and teaching facilities for biology, chemistry, computer science, environmental studies, geography, geology, physics, and science education. More than 50 faculty members have offices in the building.
According to Campaign Chair Jim Putnam, "The Science Center campaign is a record achievement for Keene State and the community. This extraordinary home for the sciences will enhance the College's academic reputation through the state and region."
"This facility ushers in a new era of science education at Keene State College," said KSC President Stanley J. Yarosewick. "The public-private partnership that made it possible has strengthened the College and its capacity to serve our students and the community. Our donors and our legislators have our deepest thanks."
The 32 new labs - with equipment worth more than $1 million - will extend Keene State's well-established ability to involve undergraduate students in research projects. The Science Center also houses an outdoor courtyard that doubles as a "living" classroom, a greenhouse full of tropical plants, an herbarium, a lecture hall that will be outfitted with teleconferencing and distance-learning technology, many class and seminar rooms, a map room, and a geology collection.
Among major donations to the campaign were $1 million from C&S; Wholesale Grocers of Keene, $500,000 from the Markem Corporation of Keene and the Putnam Foundation, $500,000 from a U.S. Department of Justice appropriation, and $100,000 each from the Timken Foundation of Canton, Ohio, and J.A. Wright & Co. of Keene and the Wright Fund of the N.H. Charitable Foundation. More than 800 organizations and individuals contributed to the campaign.
Gifts and grant solicitations continue for the Science Center campaign, which will conclude on December 31.
For more information on the Science Center, visit www.keene.edu/science.
Related Stories