Italian String Quartet Quartetto Bernini Visits Keene State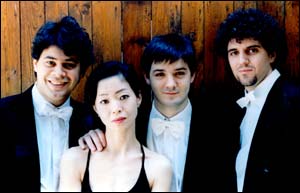 KEENE 10/7/04 - Quartetto Bernini, hailed by the Washington Post as "the most photogenic string quartet around and also a crack ensemble of musicians," will make its area debut at Keene State College's Redfern Arts Center on Brickyard Pond, Wednesday, Oct. 27, at 7:30 p.m.
The Ensemble will also give a lecture demonstration on the art of the string quartet that same day from 2 to 3 p.m. in the Arts Center's Alumni Recital Hall. The performance is sponsored by Peerless Insurance Company.
Founded in Rome, Quartetto Bernini is composed of four musicians who have studied at some of Europe's most prestigious academies. The Ensemble has received the "Premio Michelangelo" for special artistic merit and was selected to be the Quartet in Residence at the Accademia Filarmonica Romana of Rome. It made its debut to critical acclaim at the Teatro Olimpico in Rome. In 2002 they were appointed Teachers of the String Quartet at Rome's Conservatorio of Sta. Cecilia.
Since its founding, the Ensemble has been actively touring throughout the United States, Europe, and Asia. In special demand to perform premieres of contemporary music, they have performed with such internationally acclaimed artists as Alain Meunier, Gerard Causse, Bruno Canino, and others.
They have recorded J.S. Bach's "The Art of the Fugue" and the string quartets of Donizetti and Alfred Schnittke for Dynamic and Tactus records.
Members of Quartetto Bernini are Valeriano Taddeo, cello; Marco Serino, I violin, Yoko Ichihara, II violin, and Gabriele Croci, viola. Mr. Serino plays a Nicolo Amati 1661 violin. Mr. Taddeo's cello was built in 1700 by David Techler.
The Keene program will open with "Art of the Fugue," Counterpoints Nos. 1-6-9, followed by Mozart's Quartet in D minor, KV 421. After an intermission the Ensemble will return to play Quartet, Op. 110, No. 8 by Shostakovich and "Viaggio in Italia" by Sollima.
Tickets for the concert are available through the Brickyard Pond box office, 603-358-2168 and on the web at www.keene.edu/racbp. Tickets are $14 for the general public, $12 for senior citizens and KSC faculty and staff, $8 for youth 17 and younger, and $5 for KSC students with ID. The lecture demonstration on the art of the string quartet is free and open to the public.
Related Stories