Weston Playhouse Brings Tom Stoppard Comedy to Keene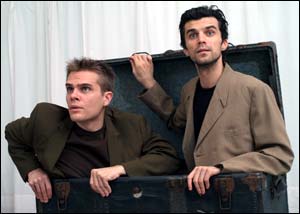 KEENE, 9/30/04 - The award-winning Weston Playhouse Theatre Company returns to Keene with Tom Stoppard's comedy Rosencrantz and Guildenstern Are Dead. Part of a three-state tour by Weston, Rosencrantz and Guildenstern is co-presented by Keene's Colonial Theatre and Keene State College's Redfern Arts Center on Brickyard Pond. The production will be presented at Brickyard Pond's Main Theater, Tuesday, Oct. 19, at 7:30 p.m. with a performance for high school students on Wednesday, Oct. 20, at 9:30 a.m.
Tickets are available at the Brickyard Pond Box office, 603-358-2168, or on the web at www.keene.edu/racbp. For the evening performance tickets are $25 and $21 for the general public, $23 and $19 for seniors and KSC faculty and staff, $13 and $10 for youth 17 and younger, and $5 for KSC students with ID. Those wishing to bring a school group to the October 20 performance must call the box office for prices and availability.
Stoppard's Rosencrantz and Guildenstern finds two minor characters from Shakespeare's Hamlet at center stage in a witty romp that has become a contemporary classic. Caught in the action of someone else's play, this vaudevillian duo flip coins, feign alliances and fracture the King's English in a madcap search for the meaning of life. Winner of the Tony and N.Y. Drama Critics Circle Awards, Rosencrantz and Guildenstern was made into an acclaimed 1990 film starring Gary Oldman, Tim Roth and Richard Dreyfuss.
Perhaps best known as the Academy Award-winning screenwriter of Shakespeare In Love, author Tom Stoppard is one of the English speaking world's most famous - and most prolific - living playwrights. His string of hits includes Jumpers, The Real Thing, Arcadia and The Invention of Love. His latest work, The Coast of Utopia, will make its Broadway debut at Lincoln Center in 2005. Rosencrantz and Guildenstern was hailed by NBC-TV as "a genuine theatrical event." Originally produced at London's National Theatre by Laurence Olivier and on Broadway by the legendary David Merrick, it made Stoppard a star on both sides of the Atlantic.
Weston Playhouse Producing Director Steve Stettler, who won critical acclaim for his direction of the New York premiere of Stoppard's Rough Crossing at the Obie winning TNT/The New Theatre of Brooklyn, directs Rosencrantz and Guildenstern. His Weston credits include touring productions of David Copperfield, Master Class and Dancing at Lughnasa, and the theatre's 2001 production of Floyd Collins, winner of the New England Theatre Conference's Moss Hart Award for the Best Production in New England.
The title roles are played by Michael Crane and Eric Altheide, whose credits include Off Broadway, Williamstown and the Cincinnati Playhouse. The supporting ensemble is composed of actors skilled at handling both Stoppard's wit and the playing of multiple roles. Weston veterans Michael Hicks (Tragedian), Geoffrey Wade (The Player and Polonius), and Brandy Zarle (Gertrude and Ophelia), have been seen on Broadway and regionally from Baltimore's Center Stage to San Diego's Old Globe. The resumes of cast members Jeremy Bobb (Hamlet), Michael Burnet (Alfred), Jamie Campbell (Claudius) and Daniel Larlham (Tragedian) include appearances at Shakespeare and Company and Trinity Rep and on London's West End.
The Keene performances are made possible by support from the Citizens Bank Foundation and are funded in part by a grant from the New England Foundation for the Arts, with additional support from the six New England state arts agencies and the National Endowment for the Arts.
Related Stories