Photography and Doll Exhibits Celebrate Native American Culture at the Thorne Art Gallery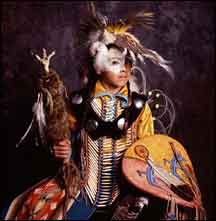 KEENE, N.H. 9/24/04 - Photographs of Sioux people and their sacred sites along with dolls made by American Indians, are featured in two exhibits that open Oct. 9 as part of a Celebration of Native American Culture at the Thorne- Sagendorph Art Gallery at Keene State College. "Vision Quest: Men, Women, and Sacred Sites of the Sioux Nation," a photography exhibit by Don Doll, S.J., professor of journalism at Creighton University in Omaha, Neb., and "Mid- Century Traditions: Native American Dolls from the 1950s" from the Doyle Collection of Native American Dolls, on loan from the Robbins Museum of Archaeology in Middleborough, Mass., will be on exhibit through Dec. 5.
These exhibits are part of a semester-long focus on Native American art and culture various aspects of which will be discussed by two speakers during a reception on Saturday, Oct. 16, from 5:30 to 7:30 p.m. at the gallery. At 6 p.m. Tom Doyle, a lecturer at Keene State's Mason Library, will guide a walk through the exhibit of Native American dolls, collected by his aunt and other Public Health Service nurses working on Indian reservations during the 1950s. At 6:30 p.m. in the gallery, Suzanne Deats, a Fort Worth-based sculptor and arts writer, will speak about contemporary Native American art and artists including Jaune Quick-to-See Smith, whose work also is on exhibit at the Thorne. On Thursday, Oct. 14, at 7 p.m. Deats will present a slide lecture on Native American art in general in the gallery's conference room. Seating is limited for the Thursday lecture so people will be seated on a first-come first-served basis.
"Mid-Century Traditions" is an exhibit of 24 dolls handcrafted by Native Americans living on reservations throughout the United States. The exhibit shows a diverse collection of dolls such as carved wooden dolls from the Northwest, beaded dolls from the Plains, and Seminole dolls dressed in patchwork clothing. The dolls are used to tell a story about the artists who created them and life on the reservations at the time. Native American arts and crafts of the mid-20th century and the social conditions that accompanied the period are rarely represented in art galleries, said Doyle.
"Vision Quest" uses the camera lens to look at contemporary people from the Sioux nation (Lakota, Dakota, and Natoka tribes) who have chosen to carry the traditions and culture of their people to future generations. The exhibit of 76 color photographs, which include images of sacred sites, is accompanied by narrative statements from each subject explaining what being Sioux means to him or her. Photographer Don Doll, a Jesuit priest, says he "wanted to look upon and photograph people with something of the empathy and understanding that God has for them." The exhibit's goal is to introduce some outstanding Native Americans and hopefully break some unfortunate stereotypes, explains Doll.
"Vision Quest" and the Native American doll exhibits will be the focus of the Friends of the Thorne education program for area school children, which runs Oct. 25 to Nov. 5. Art activities and guided tours for children in kindergarten through high school will be offered during this time.
A Keene State College Alumni Association grant will make another education component of these exhibits available to KSC students. Deats, who has written or edited a dozen art books and hundreds of art-related articles in various publications, is being brought to campus to speak about Native American art and culture to several classes during her residency at Keene State, Oct. 12-16. Deats holds a degree in fine arts from the University of New Mexico, has had several solo sculpture exhibitions, and has been a juror for the Santa Fe Art Festival. As her art career progressed, she made friends with many contemporary Native American artists, many of whom she wrote about in various publications.
"I was present and connected when the first great wave of Native American contemporary artists burst forth in the mid-1970s," explains Deats. "I respect tradition, but am solidly on the side of creative experimentation and innovation." Today, her writing consumes most of her time and she was listed in Who's Who in America in 2004. "Jaune Quick-to-See Smith: Made in America," which also continues through Sunday, Dec. 5 at the Thorne, is an exhibition of drawing, printmaking, painting, and mixed media installation that examines American Indian life in contrast to the consumerism of American society. Quick-to-See Smith, a well known American Indian artist and activist, examines current issues facing her people in her artwork. "Jaune Quick-to-See Smith: Made in America" is organized by the University of Missouri-Kansas City Belger Arts Center for Creative Studies with guest curator Charles Muir Lovell, director of the Harwood Museum of Art, University of New Mexico, Taos. The exhibition tour was organized by TREX: The Traveling Exhibitions Program of the Museum of New Mexico, Santa Fe. TREX operates in partnership with the Museum of New Mexico Foundation with support from MetLife Foundation and McCune Charitable Foundation. Free guided gallery tours of the Jaune Quick-to- See Smith exhibit are offered by Keene State art student Beth LaRoche at 3 p.m. on Sundays. Reservations are not required.
The exhibits, reception, and tours are free and open to the public. The gallery is open from noon to 4 p.m. Saturday through Wednesday, and noon to 7 p.m. Thursday and Friday. It is closed Nov. 11 for Veterans Day and Nov. 24-28 for the Thanksgiving break.
The gallery is accessible to people with disabilities. To request accommodations for a disability, please call the gallery at least two weeks before your visit. For information, call 603-358-2720 or visit www.keene.edu/tsag.
Related Stories