Ratliff to Return as Keene State Athletic Director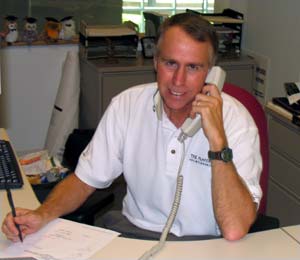 KEENE, N.H. 9/21/04 - John Ratliff, who served as the director of athletics and recreation for the past nine years at Keene State College, will return to the institution in the same capacity, it was announced by KSC President Dr. Stanley Yarosewick. Ratliff left Keene State last month to become athletic director at Oglethorpe University in Atlanta, Ga.
"You sometimes have to remove yourself from a situation to gain a better perspective and understanding of what you left behind," Ratliff said. "My leaving was not due to a lack of devotion to Keene State. My return is both a personal and professional issue, and the best fit for me and my family."
"We're delighted that John wanted to return to Keene State," said Yarosewick. "He's done an exceptional job as athletic director and we look forward to him continuing his efforts to oversee a strong athletic department."
KSC men's basketball coach Rob Colbert, who has served as interim director during Ratliff's departure, will also have a role in the leadership of the athletic program.
Ratliff guided the program through a transition from Division II to Division III in 1997. The Owls since have become the most successful program in the Little East Conference and one of the top public institutions in New England. KSC has won the Commissioner's Cup the past four years, emblematic of having the best combined record in all sports.
Off the field, Ratliff oversaw the development of and improvements to several of the College's athletic facilities, including the construction of the new Owl Athletic Complex soccer field and Recreation Center as well as major renovations to Spaulding Gym.
Ratliff came to Keene State after serving as the athletic director at the University of North Florida in Jacksonville, Fla. The Charlotte, N.C., native also spent eight years as the associate athletic director at Georgia Southern University in Statesboro, Ga., and two years as sports information/intramural director at Rhodes College in Memphis, Tenn.
Ratliff plans to be back at KSC by Nov. 1.
Related Stories