Keene State Theatre Restages the Political Satire 'Empires Fall'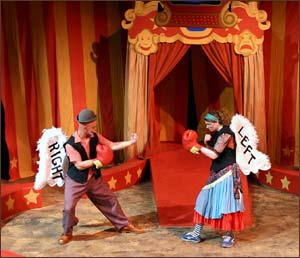 KEENE, N.H. 9/15/04 - With the upcoming U.S. Presidential election sparking interest in politics, Keene State Theatre will restage Empires Fall, last spring's popular political satire at 7:30 p.m. Tuesday through Saturday, Oct. 12-16, and at 2 p.m. Saturday in the Wright Theatre of the Redfern Arts Center on Brickyard Pond. Late arrivals cannot be admitted because of staging. Tickets are $7 for the general public and $5 for KSC students, senior citizens, and youth 17 or younger. Call the box office at 603-358-2168.
The multimedia performance piece about politics set in a three-ring circus was written by KSC faculty member PeggyRae Johnson and theatre major Steve Gravelle. In Empires Fall clowns play rulers and leaders from Nero in ancient Rome to present-day political figures in Washington, D.C. whose speechifying is meant to encourage students to register to vote and to consider their role in a democratic society. The play, which evokes the playful amphitheatre of a circus, with video and sound recreating the color and excitement of the big top, premiered at Keene State to sold-out houses in March.
Because of the play's popularity, Keene State Theatre decided to restage it at KSC and also take the play on tour to three other college campuses. Empires Fall will be presented Saturday, Sept. 18, at the University of New Hampshire in Durham; Friday, Sept. 24, at Worcester (Mass.) Polytechnic Institute; and Saturday, Sept. 25, at Northern Essex Community College in Haverhill, Mass.
The tour has a duo purpose - to spread the play's message that young people need to be informed voters, and to provide KSC students with theatrical touring experience, says Johnson, who directs the play.
"Touring productions are a big thing in theatre and it will be a huge academic advantage for students to put this on their resume," says Johnson, who toured for two years playing Mary Todd Lincoln in the Bicentennial Touring Company production of On the American Freedom Train. She also toured with the Athena Repertoire Co. in New Hampshire.
Johnson was inspired to write the one-act play after marching in Washington, D.C., to protest George W. Bush's war in Iraq. The seemingly small number of college-aged students concerned about the war appalled her. Empires Fall is aimed at a student audience to increase their participation in current events, says Johnson, and she adds the play, along with others' efforts, are making an impact. Youth voter registration is higher in 2004 than it has been since 1972, when 18-year-olds first got the vote.
The cast of ten play multiple roles as they take the stage in 12 different circus acts or scenes. All but one of the original cast will return for the fall KSC production and tour. The newcomer is Ryan Fredrickson of Concord, N.H., playing the Ringmaster. The other troupers include David Abrams of Rochester, N.H., Matthew Braundsdorf of Sharon, Conn., Alex Carey of Cummaquid, Mass., Marisa Felice Clement of West Hartford, Conn., Sarahmarie Gervais of Lee, N.H., Daniel Haggerty of Penacook, N.H., Evan Lidestri of Niantic, Conn., Joshua Midgett of Pocasset, Mass., and Shanna Sartori of Wolfeboro, N.H. Also returning backstage are Emily McGrath of Natick, Mass., the stage manager, and assistant stage managers Jessica Charest of Colchester, Conn., and Kat Gagne of Rochester, N.H.
Related Stories