AXIS Dance Company Brings Its Unique Style of Physically Integrated Dance to Keene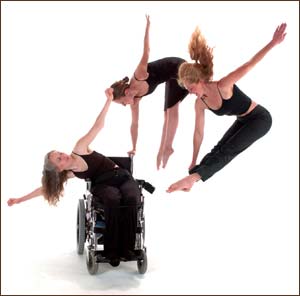 KEENE, NH 9/14/04 - Keene State College's Redfern Arts Center on Brickyard Pond will host the AXIS Dance Company for a four-day residency, September 29 to October 2. Founded in the San Francisco Bay Area in 1987 AXIS has created an exciting body of work developed by dancers with and without disabilities. They are in the forefront of paving the way for a powerful and inclusive dance form, physically integrated dance.
AXIS has performed in theaters and dance spaces throughout the U.S., as well as in Germany and Siberia. Described by the New York Times as a "visual and physical discovery, creating fascinating works of movement art," AXIS has become internationally known for its high artistic and educational standards and innovative movement vocabulary. Under the artistic direction of Judith Smith, the AXIS repertory includes works by choreographers Stephen Petronio, Bill T. Jones, Joe Goode, Joanna Haigood, Sonya Delwaide, Victoria Marks, and Ann Carlson.
AXIS Dance Company's performances are on Friday, Oct. 1, at 10 a.m. for schools and Saturday, Oct. 2, at 7:30 p.m. for the general public.
The company will also conduct four dance workshops, two of which will be held at Crotched Mountain, which offers a full range of education, clinical, rehabilitation and residential support services for children and adults with disabilities from New Hampshire and the rest of New England at its center in Greenfield, N.H., and other locations. Two other workshops will be offered at Keene State. A free and open public workshop will be held from 10 a.m. to noon, Saturday, Oct. 1, in Multi-purpose Room Three of the Keene State Recreation Center. The workshop is on physically integrated dance for non- dancers and dancers with and without disabilities, occupational therapists, and those who work with special-needs students. Since space is limited, those wishing to participate need to register by calling Brendan Denehy at 603-358-2167. Observers are welcome.
The AXIS school performance is recommended for elementary school children, providing them the experience of participating as audience members of an AXIS performance within a theatrical setting. The dancers will showcase artistic repertory, provide educational information on disabilities, describe personal dance histories, and include the audience in a physically integrated dance experience.
The October 2 evening performance will feature four dances. The first, Suite San Suite, created for AXIS by Sonya Delwaide, features five dancers with music by the Tin Hat Trio. Suite is a series of solos, duets, a trio and a quintet that peek into the complexities of different characters and their relationships. The music of "Tin Hat Trio" brings out images of European cafes.
Dust is choreographed by Victoria Marks in collaboration with seven dancers. Marks describes the dance as a "choreo-portrait" of a community of people, some of whom are disabled and others who, at least on a surface reading, are not. It is not a dance about disability. It is about desire and mortality.
Ann Carlson's Flesh, featuring music by Meredith Monk, is danced by seven members of AXIS. Flesh is a performance meditation that draws its inspiration from three sources - first from the mystery and hope in Meredith Monk's music, second, from the E.M. Forster short story "The Machine Stops," and finally from the performers themselves. The evening will close with Bill T. Jones's Fantasy in C Major, featuring seven dancers and music by Franz Schubert.
The AXIS residency is funded in part by the Expeditions program of the New England Foundation for the Arts, which receives major support from the National Endowment for the Arts with additional support from the state arts agencies of New England and the Andrew W. Mellon Foundation.
Tickets for both performances are available through the Brickyard Pond Box office, 603-358-2168 or on the web at www.keene.edu/racbp. Prices for the evening performance are $20 and $16 for the general public, $18 and $14 for seniors and KSC faculty and staff, $14 and $11 for youth 17 and younger, and $5 for KSC students with ID. Teachers are encouraged to call the box office directly to reserve their tickets for the school performance at greatly reduced prices.
Related Stories