Media Expert Sut Jhally to Speak at Keene State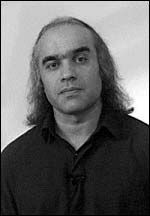 KEENE, N.H. 9/3/04 - Keene State College's fall semester lecture series will begin with a presentation by Sut Jhally, professor of communication at the University of Massachusetts-Amherst, founder and executive director of the Media Education Foundation in Northampton, and one of the world's leading experts on advertising and media studies.
Jhally will speak at 7 p.m. on Thursday, Sept. 16, in the Mabel Brown Room of the Student Center. His presentation is free and open to the public.
In his address, "Rectifying Language: Media and Social Control," Jhally will discuss the ways that media organizations edit and package information that is presented to the public, and the influence of the media on people's beliefs and assumptions. He will also talk about his latest film, Hijacking Catastrophe: 9/11, Fear, and the Selling of an American Empire, which deals with the cultivation and manipulation of fear as a political tactic.
Jhally is known nationally for his controversial and award-winning film Dreamworlds: Desire/Sex/Power in Music Video (over which MTV threatened to sue him). Over 2 million students in the last decade have seen the film that The Los Angeles Times called "a scathing examination of pop video's use and abuse of women."
As the founder and executive director of the Media Education Foundation, Jhally has produced more than a dozen films - The Date-Rape Backlash; Advertising and the End of the World; Tough Guise - Violence, the Media and the Crisis in Masculinity (with Jackson Katz); and Killing Us Softly 3 - Advertising's Image of Women (with Jean Kilbourne) - dealing with issues from commercialism and popular culture to violence and gender.
Jhally is the author of four books and is a renowned public speaker and teacher. He is a recipient of the Distinguished Teacher Award at the University of Massachusetts-Amherst, where the student newspaper has also voted him "Best Professor." He has shown his films and lectured at many colleges and universities nationally and internationally.
Among other speakers at Keene State this semester will be writer and activist Grace Paley, environmental author and Keene State's writer-in-residence Janisse Ray, and author of Holocaust books Nechama Tec. A new documentary film, Telling Their Stories: Holocaust Survivors Speak Out, will premier at the College on Sunday, Sept. 26.
The event is sponsored by the Diversity Commission. For more information, call Susan Theberge, associate professor of education, at 603-358-2863.
Related Stories