Science Center: A Relationship of Form and Function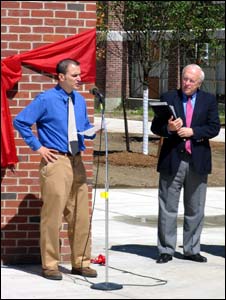 Scott Strong, associate professor of biology, served on the faculty design team that helped plan Keene State's new Science Center. He spoke at the Science Center ribbon-cutting on Thursday, Sept. 2.
"On behalf of the faculty and staff that will come to know the new Science Center as a home away from home I am honored to participate in this ceremony. While my brief comments regarding the Science Center stem from my perspective as a professor of Biology, I'm hopeful they relate to all of the scientific disciplines housed within its walls.
"Of frequent discussion in science lectures and experimental manipulation in science laboratories are the principles of thermodynamics and the relationship between form and function. Having worked for six years in the old building and been involved for two years with the numerous design steps leading to this opening day, I have noticed several connections between these two staples of scientific thought and our new Science Center.
"Most obvious among these comparisons between scientific principles and the Science Center pertains to first law of thermodynamics, which states that energy can not be created or destroyed. It is my professional opinion that this universal law of the conservation of energy has been violated in the design and construction of this building. I offer the structure behind me as proof. In stark contrast with the grey gloom and staleness that permeated the old Science Center there is a discernable sense of energy radiating throughout the new building. In my brief time in the new Science Center I have yet to pinpoint the exact source of this energy. It may originate from the solar panels perched upon the roof, from the vibrant sunflower hue of the walls, or from the copious amounts of sunlight that penetrate its glazed facade. Regardless of its origin, it is there now and it was not there before. It is my hope and expectation that this newly found energy source will serve as a catalyst toward promoting critical and creative thinking in our scientific pursuits, which are undoubtedly endergonic (energy requiring) activities.
"One can draw further connections between scientific principles and the Science Center by examining the relationship between form and function. A classic biological example of this relationship can be seen in the flight of a bird. The structure of a bird's feathers, hollow bones, musculature, and nervous system, which have been molded by the evolutionary interplay of chance and necessity, function collectively to permit flight. This relationship between form and function can also be applied to the Science Center; however, while the issue of necessity certainly played a role in the decision to overhaul the Science Center, chance was but a minor factor in determining its current form. Its shape was carefully and creatively developed by architects, engineers and science faculty. This synergistic effort has culminated in appropriately sized, technology-rich classrooms, student study alcoves, a beautiful scientifically themed courtyard, and in my opinion the most important space in the new building, modern faculty/student research laboratories. Virtually every square foot of this structure was designed to foster an appreciation for and understanding of scientific thought. In this new environment science majors and non-majors alike will have the opportunity to learn science by doing science. Through design to construction we remained cognizant of the fact that science is a dynamic human endeavor, and in this magnificent building science will flourish at Keene State College. Simply put, the Science Center has evolved. As teachers, as mentors, as scientists we at last have a building with a form that fits our function."
Related Stories