Keene State's new $23-Million Science Center Is Open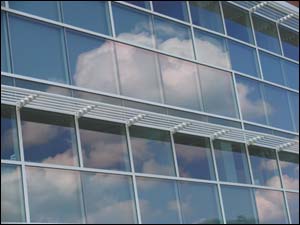 At 7:30 a.m. on Monday, Aug. 30, KSC President Stanley J. Yarosewick greeted the first students to use the new facility, giving a commemorative clock to the first ten to pass through the glass doors into the atrium.
"This looks like a really great building," said Katherine Fish, a transfer student from the University of Massachusetts-Amherst, as she explored the courtyard.
The facility, the most expensive and ambitious capital project in Keene State's history and the centerpiece of the School of Sciences and Social Sciences, is virtually complete, with only finishing touches inside and outside the building to be completed.
A ribbon-cutting ceremony was held on Thursday, Sept. 2.
The Science Center houses research and teaching facilities for biology, chemistry, computer science, environmental studies, geography, geology, physics, and science education. More than 50 faculty members have offices in the building.
The 32 new labs will extend Keene State's well-established ability to involve undergraduate students in research projects. Among the labs - containing instruments worth more than $1 million - are the biology/geochemistry trace element analysis lab, home of the X-ray fluorescence spectrometer and the isotope mass spectrometer, which are used to identify and analyze metals and other substances in the environment; the molecular biology/biochemistry/physiology project lab, which will enable students to carry out research on gene expression; and the nuclear magnetic resonance (NMR) facility, which houses the NMR spectrometer, used to determine chemical bonding in organic compounds.
The Science Center also houses an outdoor courtyard that doubles as a "living" classroom, a greenhouse full of tropical plants, an herbarium, a lecture hall with teleconferencing and distance learning technology, many class and seminar rooms, a map room, and a geology collection and study room.
Among items soon to be added are interactive display monitors in the atrium that will present information from the Science Center's weather station and groundwater monitoring wells; solar panels; building mechanical systems; and a 54-foot-long science/art display of the Ashuelot River.
Related Stories