Dr. Y, KSC President, Announces his Retirement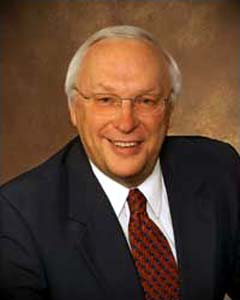 KEENE, N.H. 8/23/04 - Keene State College President Stanley J. Yarosewick, who has led KSC for 10 years, announced to the faculty and staff today that he will retire from the position in the summer of 2005. In his opening address as the faculty returned to prepare for next week's start of classes, Yarosewick said he and his wife Mary-Lou will move to Pennsylvania to live near their children and grandchildren. Dr. Y, as he is known on campus, will turn 65 in September,
"A president serves as a steward of place," Yarosewick said. "The life of a president on a campus has a beginning and an end, and it's time for me to step away. This has been a very difficult decision for Mary-Lou and me. We have a lot of friends here, and I'm going to miss both Keene State College and the City of Keene very much."
"Stan Yarosewick has made an enormous contribution to Keene State College," said Dr. Stephen J. Reno, chancellor of the University System of New Hampshire, of which KSC is a member. "He's an academic leader, truly student- oriented, and a wonderful exemplar of relations between the College and community. He's a true citizen of the University System, a fine colleague, and a dear friend to me."
"I'm very sorry to see Dr. Yarosewick leave," said Andrew E. Lietz, chair of the University System. "He has served us very well as a president and helped shape Keene State College in ways that all of us will be thankful for in the future. He has been a strong academic and campus leader, and he personifies what a president can do for community and campus relations."
Lietz said that he and Reno will now begin taking the first steps toward the search for a new president.
Yarosewick said he's looking forward to the process that will select the next leader for Keene State. "A new president always brings new ideas," he said. "A new president renews and recharges the campus. It will be an exciting time."
Dr. Y came to Keene State in 1994 from West Chester University in Pennsylvania and was inaugurated the following spring. Over the last 10 years, the number of graduate and undergraduate students at KSC has risen by 500, to 4,436 last fall, with another 800 students attending Continuing Education courses. The College has raised admissions standards in recent years, and students who attend Keene State now reflect higher academic qualifications than in years past. With student diversity a major theme for Dr. Y, the number of nonwhite students has grown steadily, and multicultural programming has expanded dramatically.
During Yarosewick's tenure, KSC began to emphasize its role as a public liberal arts college, in which undergraduate education is the focus, with all student curricula - including professional studies - grounded in the arts, humanities, and sciences. Keene State is one of 21 colleges nationally with membership in the Council of Public Liberal Arts Colleges.
Following a major theme in his presidency, Dr. Y has been instrumental in establishing partnerships with area businesses, community organizations, and the region's other educational institutions. His efforts have helped promote workforce development, establish the area's first local Internet provider, and encourage college awareness among middle school students in Winchester, among other initiatives. He has worked closely with Keene City officials to improve and maintain town-gown relationships, as seen in initiatives ranging from a shared library catalog to cooperating with law enforcement to improve student behavior off campus.
Over the past 10 years, the campus has grown considerably. Since Yarosewick's arrival, the College has opened a new Student Center, renovated and expanded Rhodes and Elliot Halls, added a 96,000-square-foot Recreation Center, upgraded other athletic facilities, built the Pondside Apartments, and begun building a major new dining facility.
Yarosewick has also spearheaded the most ambitious construction project in the history of the College, the new $23-million Science Center, scheduled to open for classes next week. A physicist by training, he also oversaw efforts over recent years to enhance the sciences at KSC through partnerships with the National Science Foundation and other organizations. The College also recently established new science majors for students preparing to teach in elementary, middle, and high schools.
Originally from Exeter, N.H., Dr. Y earned a bachelor's degree at the University of New Hampshire and a master's degree and doctorate in physics at Clarkson College of Technology in New York. At West Chester University he was provost and vice president for academic affairs and served for a year as interim president.
Locally, Yarosewick serves on the boards of the Monadnock Economic Development Corporation, and the Monadnock United Way. At the state level, he serves on the boards of the New Hampshire Postsecondary Education Commission, Campus Compact of New Hampshire and the New Hampshire College and University Council. He is a former board member of the Keene Rotary, and he recently completed a term as a higher education commissioner for the New England Association of Schools and Colleges.
Related Stories