Students Will Read Ecology of a Cracker Childhood This Summer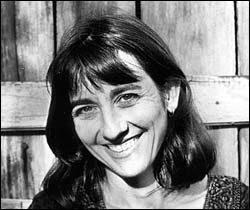 Janisse Ray's memoir, Ecology of a Cracker Childhood, is Keene State College's summer reading title for incoming students.
In its fourth year, the Summer Reading Program is a common learning experience to help first-year students adapt to the intellectual life of the College.
Ray grew up in a Georgia junkyard along U.S. Highway 1, hidden from Florida- bound travelers by the hedge at the side of the road and by hulks of old cars, stacks of blown-out tires, and primeval jumbles of rusted metal. Ecology of a Cracker Childhood tells how a childhood spent in rural isolation - living in the country but not even knowing how to swim - grew into a passion to save the almost vanished longleaf pine ecosystem that existed before the region was ever called the South.
Ray earned a graduate degree in creative nature writing from the University of Montana, where her chapbook, Naming the Unseen, won the 1996 Merriam-Frontier Award. She has been an assistant editor at Florida Wildlife, has taught English in Colombia and has served as a writer in residence at the University of Mississippi. Ray has published essays and poems in Wild Earth, Hope, Tallahassee Democrat, Alaska Quarterly Review, Missoula Independent, Natural History, Orion, Orion Afield, Florida Wildlife, Florida Living and Georgia Wildlife, among others. She has been a nature commentator for Georgia Public Radio.
Ray, who will live in Brattleboro, Vt., next year, is likely to visit Keene State several times during the 2004-05 academic year.
For more information, contact William Stroup, assistant professor of English, at 358-2692.
Related Stories