Keene State Collaborates With NHTSA and State Groups to Train EMs And Fire Professionals to Prevent Accidents in Their Towns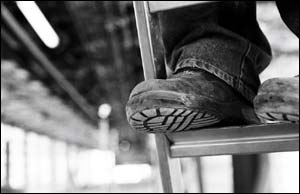 KEENE, N.H. 5/13/04 - Keene State College will be joined by other sponsoring organizations in celebrating the first class of Emergency Medical Services (EMS) technicians and firefighters to participate in a unique program to prevent accidents in their communities on Monday, May 17, at the Richard M. Flynn Fire Academy in Concord. The 10 a.m. graduation ceremony takes place appropriately during EMS Week, which brings together local communities and medical personnel to publicize safety and honor the dedication of those who provide the day-to-day lifesaving services of the medical "front line."
EMS Week is sponsored by the American College of Emergency Physicians, and it was a New Hampshire emergency physician, Dr. Joseph Sabato Jr., who has led the development of the Enhanced EMS Injury Prevention Program. In addition to Keene State College's Office of Continuing Education and Extended Studies, the National Highway and Traffic Safety Administration, the Safety and Health Council of New Hampshire, the Bureau of Emergency Medical Services, the Committee on Emergency Public Health, the New Hampshire Intersections Project, and the City of Nashua Division of Public Health and Community Services have provided support for the program.
This training program, which is based on the national fire prevention movement in the early 1970s, is designed to develop injury prevention in emergency public health areas such as traffic safety, infectious disease, bio-terrorism, and environmental disasters.
An epidemic of 11 fatal teenage car crashes in 18 months moved Dr. Sabato to take action to prevent the many senseless tragedies he witnessed daily in the emergency room at Parkland Medical Center in Derry.
"Currently, there is no trained injury prevention work force in this country, said Sabato. "I believe there should be. While there are many great programs to prevent injuries, there's a limited work force to implement them."
This trained work force will start with the 11 EMS and fire professionals, who completed the first course in the Enhanced EMS program, which dealt with preventing traffic injuries.
Derry Fire Lt. Scott Haggart will leave the course and start a child passenger safety outreach and demonstration program for child-care centers and preschools in Derry.
Richard S. Hanegan, a Pelham firefighter, will set up a safety course for Pelham High School students. Accidents such as car crashes, drowning, falls, and suffocation, are the No. 1 killer of young people up to age 19 and Hanegan wants to make teens aware of safe and healthy ways to live.
Salem Assistant Fire Chief Kevin Breen will implement a student driver education program stressing seat belt use for all Salem High School students. Breen says many victims of fatal car crashes could be alive today if they had been wearing seat belts.
Other Enhanced EMS courses are planned that will build off techniques examined in the first course on traffic safety. Other courses will examine injury prevention at a community level when dealing with emergency public health issues such as infectious disease and bio-terrorism. For further information about the Enhanced EMS Program, call Dr. Joseph Sabato at 603-537-1903 or Jeff Brown at the Keene State College Continuing Education Office, 1-800-KSC-1909 or 603-358-2290.
Related Stories