Starting from Scratch: Student Designers Manufacture a Dry-land Training Bench for Swimmers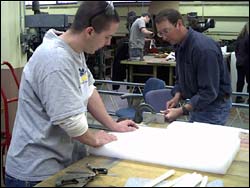 KEENE, N.H. 5/13/04 - Training for swimming is not just jumping in the pool and doing laps. To avoid injury and to ensure their fitness over a long season, swimmers need to train, as it were, on dry land.
According to Jack Fabian, coach of the Valley Gators swim team in Keene and an assistant coach of the KSC swim team, dry-land training is an essential part of a swim team's preparation. This training, he said, takes the form of bench exercises, including sit-ups and weight lifting. A problem swim teams face, however, is access to safe, affordable equipment that can be easily used and stored poolside and that will not deteriorate when exposed to water.
The solution to this problem was found by Berny Cooper, Doug Whiton, and Scott Palumbo, students in the product design IV course at Keene State. They spent the spring semester designing, building, and testing several versions of a dry-land training bench that Jack and his swimmers could use. Under the direction of Lisa Hix, coordinator of the course, the team designed a one- piece, folding, hard foam rubber bench that could be used in a variety of training positions.
The team tested different designs to come up with a bench that was ergonomically correct, says Berny. "Safety was a major concern," he explains. "We tested several models with swimmers to come up with the correct angles for safe exercise."
Depending on how the bench is unfolded, swimmers can use it for sit-ups (with a triangular part of the bench under their knees and a built-in strap to hold their feet), and several free-weights exercises on their fronts or backs.
When folded for storage, the bench is cube-shaped and weighs only a few pounds. The team used polyethylene for the final prototype, because of the material's hardness, sturdiness, and durability in wet environments.
Product design IV is a capstone course for Keene State's student designers. The goal of the course, says Lisa, is for students to use advanced computer computer-aided design and manufacturing methods, such as Solidworks, to develop solutions to real-life design problems. Among other student projects this spring was a portable DJ station, a car-top kayak lifter and rack, and a tractor-pulled hay baler.
The designers put much of their success down to their faculty supervision. "Lisa keeps us on a real-world path, " explains Doug. Scott, a swimmer on the KSC team, agrees, noting that when the team wanted to jump ahead to building something, "Lisa would always say 'where's the drawing?' And we understand that she's right."
According to Berny, who has worked in design for 20 years and is earning his degree through the College for Lifelong Learning, much of the benefit of the course comes from working with a wide range of students, faculty, and clients.
For more information about product design courses at Keene State, contact Lisa Hix, instructor in technology, design and safety, at 358-2056 or Richard Foley, professor of technology, design and safety, at 358-2893.
Related Stories