Mathematics Professor Wins KSC Award for Research and Scholarship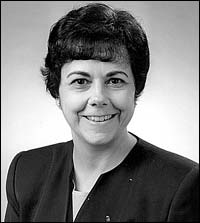 KEENE, N.H. 4/26/04 - Beverly Ferrucci, professor of mathematics at Keene State College, has been chosen to receive the Keene State College Award for Faculty Distinction in Research and Scholarship for 2003-04. Ferrucci is the fourth recipient of the award, which recognizes contributions to research and scholarship at Keene State.
A member of the Mathematics Department at KSC since 1987, Ferrucci views research and scholarship as an essential part of her being a faculty member at Keene State. "Research and scholarship are important because they go hand-in- hand with my teaching," she explained. "When I teach the mathematics education seminar course, I teach students how to analyze and understand educational research. I think it helps the students that I'm teaching from experience - that much of the work I do is focused on mathematics education research. It means I can bring experiences that I've learned in my research back to my courses at Keene State."
Ferrucci is renowned in the United States and internationally in the field of mathematics education. Ferrucci's research interests vary as she researches such diverse topics as mathematical pedagogy, algebraic reasoning, mathematical functions, mathematical modeling, and information technology. One of the research areas that she is most passionate about is the integration of cross-cultural perspectives and ethnomathematics, the cultural anthropology of mathematics and mathematics education. "This involves learning about a culture through its mathematics," she explained, citing an example. "An Asian country might be strong in mathematics and it could be valuable to find out why - what it is that they are doing that makes them consistently number one in comparative test scores."
According to Yeap Ban Har, of the National Institute of Education (NIE) and Nanyang Technological University in Singapore, where Ferrucci served as a faculty member in 2000, Ferrucci has been a significant contributor to the development of mathematics education research in Southeast Asia. During her time at the NIE, she led research projects and conducted workshops for teachers at all levels. In 2003, she was invited to the Czech Republic to lead a working group in ethnomathematics at the Sixth International Conference of the Mathematics Education into the 21st Century Project.
Much of Ferrucci's research investigates mathematics education pedagogy, in particular new methods to teach mathematical topics. Among her interests are the use of technology in the classroom, using origami to explain mathematical concepts, and mathematics curriculum and assessment development. "The questions I seek to answer," she says of her research, "are what effects will this concept have on children's mathematical learning and is it beneficial?"
Ferrucci has authored more than 50 publications, some of which have been translated into Chinese, Japanese, and French, and has presented her research or lectured in more than 50 countries, including Cuba, Singapore, Jordan, and Australia. She was the first American, and the first woman, to be invited to speak at the Southeast Asian Conference on Mathematics Education when it was hosted by the Vietnamese Mathematics Society in Hanoi. Another memorable experience, she said, was a presentation she made at a rural school in Mozambique. After speaking about the role of women in mathematics, she was approached by a group of local women. "They were very poor and illiterate, but they were excited about mathematics," Ferrucci explained. "They showed me wonderful baskets with intricate geometric designs that they had woven and began to tell me other ways that they use mathematics in their daily lives."
Since she arrived at Keene State, Ferrucci has been a driving force behind training mathematics teachers. In the past 10 years, seven students mentored by Ferrucci have received the Fernand Prevost Mathematics Teaching Award, which is given annually to a beginning New Hampshire mathematics teacher with no more than three years' experience for having an excellent commitment and ability to teach mathematics.
As a teacher, said Ferrucci, she tries to pass on her positive attitude towards mathematics by modeling it to her students. She emphasizes that mathematics is a hands-on, investigative subject, and she tends not to use textbooks because of the perception that they tend to make mathematics a "procedural discipline" instead of connecting mathematics to reality.
"I love to work with a student who absolutely dislikes mathematics and to get a letter from the student at the end of the semester that says, 'Thanks for turning around my thoughts; I really love mathematics now and I'm going to sign up for another mathematics course.'"
A graduate of Boston University, Ferrucci earned her Ed.D. from Boston University and her Ph.D. from Boston College. For more information, contact Beverly Ferrucci, professor of mathematics, at 603-358-2506.
Related Stories