Keene State Dancers To Perform Séan Curran's '(Another) Metal Garden' In Montreal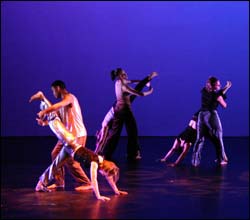 MONTREAL 4/29/04 - Eight dancers from Keene State College will perform at Montreal, Canada's Studio 303 on Saturday, May 15, 8 p.m. The dancers will be seen in "(Another) Metal Garden," created by New York choreographer Séan Curran. The concert will include a solo dance created by Keene State associate professor William Seigh titled "I Forget Just Why" and danced by Keene State alumna Aiyana Maye. The Keene State dancers will share the evening with Montreal choreographer Katie Ward whose dance quartet, "Collapsible Uprisings/Act Before You Think," will also be seen.
Studio 303 is located at 373 Ste. Catherine Ouest, Montreal. Tickets for the performance are $5 CAD and may be purchased at the door. For more information contact Bill Menezes, 603-358-2171.
"(Another) Metal Garden," which premiered at Keene State's annual Evening of Dance Spring Concert is a playful romp through a garden of delights, was created by Curran for eight Keene State dancers selected by audition in the fall of 2003. Curran's residency to create the dance was made possible through a grant from the National Endowment for the Art's National Collegiate Choreography Initiative. Music is by Tigger Binford and Peter Jones. Seigh and Marcia Murdock continued rehearsing the piece through out the winter and spring. The student dancers performing are Jillian Davey, Danielle Dicento, Ali Rosenthal, Melanie Rosner, Meredith Roy, and Leah Waitkun. The two alumni are Yoshio Chandler and Maye. While in Montreal, the dancers will participate in master classes and open rehearsals with dance professionals and attend other dance performances.
Curran has been described by "The Village Voice" as "…a sublime choreographer, creating complexly musical phrases for a company that literally rises to meet his expectations." He began his dance training with traditional Irish step dancing as a young boy in Boston, Massachusetts. He went on to make his mark on the dance world as a principal dancer with the Bill T. Jones/Arnie Zane Dance Company.
He received a New York Dance and Performance Bessie Award for his performance in Secret Pastures. Curran was a member of the cast of the Off-Broadway percussion extravaganza Stomp for four years, and has performed his solo evening of dances at venues throughout the United States as well as at Sweden's Danstation Theatre and France's EXIT Festival.
"I Forget Just Why," with music by John Cage, draws its inspiration from the poem, "Lament" by Edna St. Vincent Millay, whereby the audience witnesses the dancer's grief as she takes an emotional ride on a path to a momentary peace.
Seigh is a choreographer of modern dance and musical theatre and has performed, choreographed, and taught throughout the United States and Europe as an independent artist and with the modern dance companies Thompson and Trammell Quartet and Nancy Spanier Dance Theatre. "Collapsible Uprisings" centers thematically around human strength and frailty in the face of confrontation. As in much of Ward's work the piece involves movement that requires a lot of strength and other activities that portray the limits of physical stamina, showing the fragile side of each dancer.
Ward has worked across Canada for choreographers Rachel Browne, Ruth Cansfield, Davida Monk, Sharon Moore, Isabelle Choinière and Pierre Paul Savoie. Ward has presented her choreography in Montreal at Tangente and La Cinquième Salle and in Vancouver. The visit to Montreal is part of the Quebec/New Hampshire Dance Alliance, which was established as part of a trade agreement by former New Hampshire Governor, Jean Shaheen and the Prime Minister of the Province of Quebec, Canada. The agreement was struck to foster and exchange dance resources between Quebec and Northern New England. Keene State College was designated as the New England hub site for the project.
The trip to Montreal was made possible through the support of the New Hampshire State Council on the Arts, the Quebec Ministry of Culture and Communication, the office of Keene State's Dean of Arts and Humanities, the Redfern Arts Center on Brickyard Pond, the KSC Student Government, and private donations.
Related Stories