KSC Faculty to Play Works by Bach, Poulenc, Ravel, & Vivaldi (4/21/04)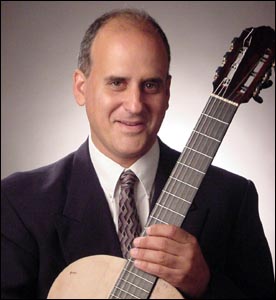 KEENE, N.H. 4/12/04 - Classical guitar and cello works by Bach, Ravel, and Vivaldi along with a brass sonata by Poulenc will highlight a Keene State College Faculty Artists' Recital at 7:30 p.m. on Wednesday, April 21, in the Alumni Recital Hall of the Redfern Arts Center on Brickyard Pond. Tickets are $7 for the general public and $5 for KSC students, senior citizens, and youth age 17 or younger. Call the box office at 603-358-2168.
The Granados Duo - guitarists KSC Professor José Lezcano and guest artist John Mantegna - will be joined by cellist Sarah Cohen to perform Bachianas Brasileiras by Heitor Villa-Lobos, who pays homage in this piece to Bach and Brazilian folk music, which he felt had many affinities. They also will play Concerto in D major, Antonio Vivaldi's popular lute concerto arranged for a trio of two guitars and cello, and J.S. Bach's Italian Concerto, which pays tribute to Vivaldi and other earlier Italian composers. Lezcano and Mantegna will perform a pavane by Maurice Ravel and Danza Española by Enrique Granados.
Lezcano, Cohen, and Robin Matathias, flute, will play Lis by Marco Pereira.
KSC Brass Faculty Jim Boccia, trumpet, Karen Horton, horn, and Victoria Moore, trombone, will play Francis Poulenc's Sonata for Horn, Trumpet, and Trombone. This chamber work is deceptively difficult for a trio of musicians who must disguise their breathing to give shape to the music.
Christopher Swist will round out the program performing an original work for marimba. Swist currently teaches percussion at Keene State, Holyoke Community College, and University of Hartford. He has performed with the New Britain Symphony, Waterbury Symphony, Steel Sunrise, Drumspeak, Lehninger-Swist Duo, Dance Connecticut, and Seven Angels Theater.
Lezcano, who was Composer of the Year in 2002, received two honors in 2003: a New Hampshire State Council on the Arts Individual Artists Fellowship and Keene State College's Award for Distinction in Research and Scholarship in recognition of his activities as performer, scholar, and composer.
Mantegna recently returned to music and teaches classical guitar at the University of Vermont after pursuing a career in computing, specializing in audio technology.
Cohen from Israel is studying this year at Keene State through a cooperative program of KSC's Department of Music and the Playing for Peace Program sponsored by Apple Hill Center of Chamber Music in Nelson. She has performed in music festivals across Europe.
Horton is a former member of the Orquesta Filarmonica de Caracas and the Orquesta Municipal de Caracas, Venezuela. She has performed with many ensembles in Connecticut and played principal horn with the Wallingford and New Britain symphonies. She currently teaches at Keene State and the Whitingham School in Vermont.
Moore has performed with the U.S. Air Force Heartland of America Band at Offutt AFB in Omaha, Neb., and the 567th Air Force National Guard Band, Otis ANGB, Mass. She is presently pursuing a master's of music from the University of Massachusetts-Amherst.
Boccia is a new trumpet instructor at Keene State.
Matathias teaches flute at Keene State, the Brattleboro Music Center, and the Putney School in Vermont. She has performed on both the East and West coasts in orchestra, opera, chamber, and jazz ensembles.
Located off Wyman Way, the Redfern Arts Center is accessible to people with disabilities. To request accommodations for a disability, please call the box office, 603-358-2168, at least two weeks before the recital.
Related Stories