KSC Orchestra Performs Concertos & Arias (4/30/04)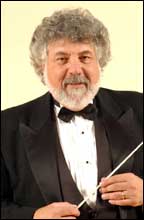 KEENE, N.H. 4/9/04 - Arias from operas by Mozart and Weber and a concerto by Still will be performed by the Keene State College Chamber Orchestra in a concert conducted by Don Baldini, KSC artist-in-residence, on Friday, April 30 at 7:30 p.m. in the Alumni Recital Hall of the Redfern Arts Center on Brickyard Pond. Tickets are $7 for the general public and $5 for KSC students, senior citizens, and youth age 17 and under. Call the box office at 603-358-2168.
Music students Nicholas Pelton of Ascutney, Vt., who plays the alto-saxophone, and soprano Jenny Beauregard from Ashburnham, Mass., will be featured soloists. They were chosen to perform on the basis of auditions by external adjudicators.
Beauregard will sing "Cavatina" from Der Freischütz by Carl Maria von Weber and "Batti, Batti, o bel Masetto" from Don Giovanni by Mozart. Pelton will perform the concerto Romance for Saxophone and Orchestra by Afro-American composer William Grant Still.
The 35-member KSC Chamber Orchestra, composed primarily of KSC students and some community members, will perform Georges Bizet's L'Arlésienne Suite No. 1 and selections from George Gershwin's opera Porgy and Bess.
Baldini also conducts the KSC Jazz Ensemble. He came to Keene State after a professional career as a studio musician in Los Angeles. He appeared for 13 years with The Tonight Show Orchestra and toured with Frank Sinatra, Johnny Mathis, Peggy Lee, and the Harry James and Toshiko Akiyoshi/Lew Tabakin bands. He currently performs with the Vermont Symphony Orchestra, the Dartmouth Symphony, Opera North, the Keene Chamber Orchestra, and several local chamber music and jazz groups. Baldini, who lives in Saxtons River, Vt., also teaches at Dartmouth College.
Related Stories